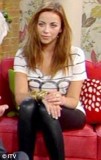 Guess what? Since this post (or a week ago) I lost 1kg. How? It's getting warmer outside, so my body requires less food (a direct correlation: the colder outside, the more I eat), I can train more often (at least 5 times a week) and I train in this suit.
The result – from 78 to 77kg in a week and still going in the right direction. My goal is 73-74kg. While 4-5kg does not sound like a big deal, it does "look" and "feel"
But here's another example. A Welsh classical singer Charlotte Church (see photos below)
… dropped from a size 14-16 back to her pre-pregnancy size 10-12 by walking and swimming, but in the past few months has slimmed further. She is now a size 8…
That's a difference! Like another Welsh classical singer (is there a trend or something?) Katherine Jenkins she wore latex being at size 12 (see below), but now
it seems Charlotte Church is determined to show off her newly trim figure at any opportunity.

And today was no exception as the Size 8 singer took to the This Morning sofa in a pair of racy black PVC leggings.
says a Daily Mail article.
That begs two more questions (the first one was about Welsh singers and latex):
If professional journalists, reporters, bloggers, fashionistas can't tell latex and PVC from lycra, do you expect usual people to treat real latex clothing properly? See "Topshop sells everyday latex clothes".
If you had a perfect figure (sporty, athletic, slim, fit) would you wear fetish clothes more often than if you're overweight?
While the former question is rhetorical, I would like to hear your opinion on the latter. Is it a good incentive to visit gyms, jog, swim, walk more often?
Below is a bonus fake bondage image manipulated image of bound Charlotte by Mr. Stitch.