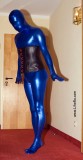 Updated on Jun 11 @ 03:52: Added 6 photos.
Published on May 19, 2011 @ 2:36:
This is my first ever zentai suit. The price was very reasonable, the material sleek and shiny, so I bought it.
Unfortunately the quality was not that great. Though the suit looked like on the pictures (the pictures are always great, see for example, metallic blue suits on eBay and discussion about the eBay pictures) : shiny, liquid, blue, etc, it was definitely smaller than the size I ordered (but labelled correctly). During my first "dry run" I managed to get in, but when I tried to get out the zipper stuck and I was effectively trapped inside the tight cocoon. I could not even get the hood off my head…
Yes, you can breath through the metallic fabric, but wriggling in an overly tight and barely elastic zentai suit trying to move the broken and stuck somewhere between my shoulder blades slider with pliers looking in the mirror (reminder: I was wearing a thick metallic zentai hood and my vision was severely affected) made me pant. Took me quite a while…
Yeah, quite a bondage I should say! Unpredictably lockable clothes, just like in fetish fiction.
But I gave it another try. This time well prepared. A brief description of the full session can be found here.
I was wearing the following:
latex briefs with built-in long thin butt-plug
pantyhose on legs
leather corset
As you can see, it was not a good buy. A couple of questions:
Are "metallic" suits elastic?
How long does the coating last?
Any good and not overly expensive places to buy zentai suits?