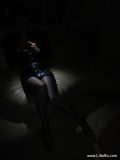 The easiest way to begin would be a phrase:"I never liked skirts" (see, for example, this post), though it wouldn't be correct. I always liked skirts and dresses on girls, because most likely they would wear pantyhose with them. But last years I most certainly would say that I prefer tight mini shorts to any tight mini skirts. Also on myself.
Personally, I happened to wear skirts only several times in my life. A couple of times when I was a kid (around 12-13yo) – I was playing with my mom's clothes (skirt, tights, high-heeled boots, etc), then when I was 16 in a camp, when we had "the best housewife (or hausfrau) contest" among three boys in a heavy make-up (I hate make-up since then, but this is another story). Then when I bought a latex dress and a latex mini skirt (quickly "destroyed" by my wife, when she tried to put it on :D). The latex mini-dress was the only "skirt-like" construction I used to wear "by my own initiative". Also I wore it during Europerve parties in Amsterdam. There are some photos elsewhere here on the site.

But in "real life" I avoided dresses, skirts and gowns, because they felt awkward, and I was afraid of tripping (even after years of playing with tight bondage…). Yeah, that's difficult to explain, indeed…
Anyway, last week I noticed leather-look leggings in "Lidl". I showed them to my wife with "Hey, look at that! Tight, shiny and leathery!" My wife immediately replied with:"OK, let's buy them for you, what's the size?". The size was good for both of us, so we bought them. 10 euros is not that much for some possible fun.
At home I put them on, and, I must say, I did not quite like both the fit and the look, so I told my wife:"Have a look. Far from perfect… Wanna try them on?" She said:"Sure, I pull them on, and you can take my skirt". She never ever offered me her skirts before, so I was like … "Hm… OK…". I put the knee long skirt on, and … it suddenly "clicked" … It fitted me perfectly. It felt perfect. It looked perfect and … natural, as if it was made for me. I looked in the mirror, and I saw not a man but a barefooted girl in pantyhose and a skirt. I stunningly told my wife, that I never expected it to be so cool. She said:"Yeah, I like this skirt as well!".
However, she did not like the leggings either (I think they looked better on her, than on me, BTW), but next days I was wearing them at home with pantyhose underneath. Sitting was quite comfortable (see this post in the forum), walking – not that much.
In a couple of days in the same "Lidl" we saw "fully sequined" shiny mini-skirts. My wife said: "Let's buy one for you. For the New Year night. With high heels ;P" (I wouldn't dare to do that! After all these years!) Of course, I did not object! We checked all the types and sizes and she picked a black with dark blue skirt size 38.
15 minutes before the midnight, she asked:"Will you dress up? May I stay as I am now?". "Yes and yes!", I shouted back from the shower. I had only 5 minutes, so I quickly pulled out and put on Danskin Ultra Shimmery Dance tights, Oroblu fishnet pantyhose, Wolford semi-transparent Individual Skin string body, shiny Realize swimsuit, the mini-skirt and high-heels (secretly I added a rubber penis-shaped dildo :P). I thought about sheer black pantyhose for my arms, but they might not be convenient for this night and I did not have time anyway. So I was just in time before 00:00! 😉
After all the fireworks, etc, she said:"Shall I make some photos?" "Yes! Of course! Please!!!". She literally placed me on the sofa, moved my legs and feet until they looked as they should, and clicked, and clicked, and clicked. For the first time we used only mobile phones. So, here's our photo session. And I hope not the last this year 😉