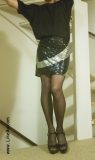 During the New Year photo session at least two things became clear: the skirt is a bit too small, I need something to wear above the skirt.
The first problem was fixed on the next day – in the same "Lidl" we bought 3 more skirts and the last pair of leather look leggings. All for both my wife and myself. The second issue is familiar to all women ("I haven't got anything to wear tonight!!! And there was nothing in the shops!!!") My precious patient wife managed to find me one blouse (I tried quite a few glittering, boring and weird "tops", but none of them looked "appropriate"). On my own I tried one leather-look mini-skirt and latex-look leggings, but without an approving "nod" from my SO I did not want to buy anything. (Hey, she's my ultimate fashion&design&aesthetics expert!). It has to wait for next Saturday.
I must confess I got hooked to skirts and dresses. The look&feel is indeed sooooo much different from shorts, regardless their tightness, length and form. I wonder if it's related to my experiments with hypnosis (see the related threads here: Hypnosis), but I think it was "inside me" all the time, and was simply waiting for being "triggered".
When we got home, my wife said: "Let's try it on!" We began with taking some photos of me wearing her shiny leggings and my new blouse, but it did not go well. Then I changed into one of the skirts. It turned out to be more difficult to invent something different from the "obvious" (for my wife, not for myself) first session, but see the "excerpt" below. At least we were having fun!
Current issues:
I still need something interesting to wear (next Saturday?)
We need a proper backdrop (here's what can be done: Backdrops for quick selfies)
My head needs some attention. And we do not see any possible solution, but to "edit it off". We would like to "create" something aesthetically looking, but even my wife is not sure if her make-up and styling skills can produce a "nice-to-look-at" result. See also this thread: Any good TV/TS photos around?
Your ideas are very welcome!