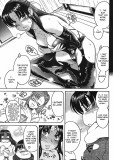 See all chapters and related articles here or see all bondage and self-bondage stories.
OK, you bought a present. Now Part II – how to present you present to the goal of your present. And where. And what to tell not to destroy the evening and not to ruin your relationships.
This is where common fetishes would help! What concerns me, I'm grateful for any present, presented in any non-harming way. Whether it's a pair of pantyhose, a big black dildo, money or a piece of chocolate. Virtually anything except living creatures and dangerous stuff.
It was a hint, by the way 😉