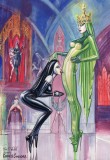 This is something special. Or different. Basically, in my mind fetish art is associated with such persons as Eric Stanton and John Willie's Bizarre or Gwendoline. But unlike John Willie's minimalism (bare necessity, fetish extract) or Eric Stanton's elaborated bondage or exaggerated femdom, Kevin's drawings are exact the opposite of both of them. But what they have in common is what they do with your mind and imagination. Also, they are very different in terms of the mood. I'll try to explain using lists of associations or brain dump But, just in case, this is my opinion, my imagination and my perverted mind.
You can make your own story by looking at the pictures. They do look like illustrations, but I could not find anything related to Kevin Walsh, except his DeviantArt page. Nothing in Google, nothing in Yahoo, nothing on eBay, Marquis or Skin Two (Kevin worked with these magazines).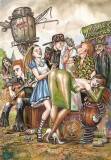 A festival or a fair, drunk people, junkies, dirt, garbage, slops, noise, loud distorted music, Theresa dressed in thin transparent latex and white high heels is standing in a provocative pose waiting for someone… or anybody… She does not care, she's here to pleasure her flesh.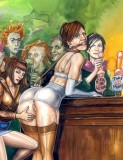 It's a pub now, the rest is not that different from the previous image, except that the cleave gagged girl in stockings is not willing to be here. Anybody can use or abuse her. She's not bound, but cannot leave this place.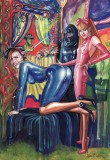 Changed interior and decorations. Added angry puppets. And strangely looking masters of puppets dressed in the same thin transparent latex… Note the apprehensive looking (nothing evil yet) girl in red and the girl in green which appears to be a boy in a latex skirt, blouse, high heels and tie.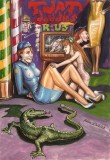 Practically the same characters as before. New latex clothes. The poor flight attendant girl (different name, same expression on her face) has her arm bound behind her back. Following the logic of the previous picture, is it the same boy but in yellow latex dress now? 😉 The dildo shaped tail is a bonus to justify filling the empty space with that "green puppet".
Mister Stephen King was there. Looks like one of his nightmares (not sure about the legs clad in full-fashioned stockings made out transparent latex …) :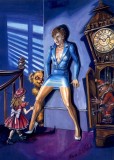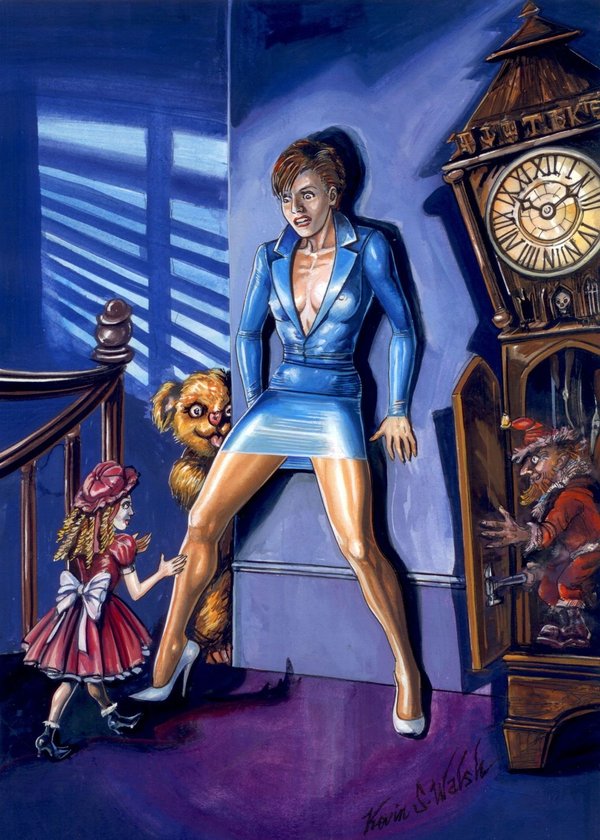 Same characters, but the expression on the face of the "little girl" has changed to something merciless with mechanical grin. Begging for mercy would look ridiculous here.
The little girl is not wearing latex. Strange…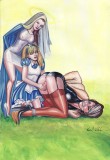 The girl is definitely on the mission. Imagine yourself in that situation (I mean bound in latex). What would frighten you more: a normal face or a mask like one with no emotions and no expression?
The girl is still not wearing any latex…
Aha! The strangeness has been fixed here. The latex is back. Funny… The spanking girl (called Alice in this and the prev picture) resembles me one real girl I know. The similarity is stunning. Though she's not into BDSM, I saw her in a latex dress. I'm pretty sure that Kevin does not know her ;-D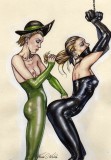 I prefer this drawing to Franco Saudelli it reminded me.


The bottom line is: every Kevin's drawing makes your imagination work. Moreover, examine the drawings more closely and you will find something new you haven't noticed before.