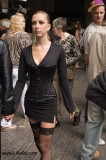 Summer Darkness ("a dark underground interdisciplinair festival") took place in the gothic centre of Utrecht from Aug 05 to Aug 09. I managed to get to Domplein only on the last day – Sunday. Now I know that I should've found more time to enjoy the very special atmosphere! A sea of positive emotions, smiles and "courteosity" everywhere, more photographers than goths, and, of course, the clothes styles varying from pinky flowery anime to vampires and dark medieval wizards and witches.
However – no latex. Pantyhose, stockings new and laddered worn everywhere and on all body parts – yes. Shiny vinyl – yes. Latex-wet-look lycra – yes. Velvet and leather – yes. Corsets and super high heeled boots – yes. But no latex. Actually, latex is way more expensive and much less practical… But still…
Anyway, I made 350 photos within just a few hours. I'm still post-processing them. This is the first part.