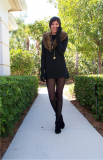 See Part I
Anybody here from Miami? How often do you see girls wearing tights and mini skirts or mini dresses NOT on parties or discos? 😉
This is what Erika (the owner of Fashion Chalet) wrote: "I breathe and dream in fashion. … according to my mood and inspiration" As a result she has (let me count) 2093 followers (what makes her a fashion leader 😉 and number 9 in top100 fashion sites.

Whatever (her "favourite" word) she wears (some would call it "something I would not want to be found dead in", some dream about it but will never dare to wear, some would indeed look ridiculous in it) it is in the perfect harmony with her personality. Whether it lace pantyhose, lamé leggings, leather trousers, faux fur or tights with no skirt. And suddenly you realize that you can't imagine her wearing anything different. Until you see her next photo.
See what I mean? "Whatever" you do, if you do it as naturally as you breathe… OK, you got it.