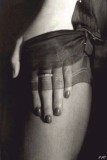 See previous parts here.
I have a habit to shove an arm down my pantyhose, so the arm gets squeezed by tight transparent nylon against my thigh. I love both the feeling and the view. Nothing really pervy or kinky, just a way to look at the tip of my nose 😉 And the photo on the left reminds me about this.
Does anybody else have similar little habits?
See 14 photos below and upload yours in the Pantyhose, stockings and black and white fetish photography forum thread.