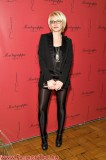 Fact #1: Evelina Khromchenko (Эвелина Хромченко) is a fashion journalist and the editor-in-chief and art director of L'Officiel Russia.
Fact #2: she likes black shiny opaque pantyhose.
Fact #3: the same pantyhose look (shine) very differently under different light.
Have a look at Lada's shiny pantyhose here. I argued with Billy about the pantyhose brand, however most likely that Evelina and Lada were indeed wearing the same kind of almost wetlook pantyhose made out of biflex. The rest is the lighting. (See the first 10 photos).
The only currently available pantyhose similar to what Evelina and Lada were wearing are Wolford Satin de Luxe. But most likely it was leggings like tights from Le Bourget (currently EOL'ed).