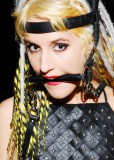 Her name is Tammy Tanuka. She was born in 1985 in an old Russian town.
During her kindergarten time she was like a small angel and everybody thought that she will be a beautiful actress. But she always wanted to be an artist. She's been drawing since she was 2. But nobody could understand the meaning of her drawings.
She had a fetish. Crosses. Big crosses, small crosses, medieval crosses, different types and styles. She drew crosses everywhere even in very unusual places. Also she liked to draw cemeteries and graveyards.
When she was 5 she made her own graveyard. There she buried dead mice, birds, rats, dogs and cats. She was looking for dead animals everywhere and then transported them on big leaves to her cemetery.
At the age of 6 she fell in love with vampires from "Draculito, mon saigneur" cartoon series and even tried to bite other kids on the playground. The parent to her utter frustration had to disallow her watching the series
In the school she was wearing black dress and at the age of 8 created her own sect. Later she was expelled from several schools for bad influence on the pupils, for painting nails and lips in the same colour as her blouse, for taking her pants off in the front of the class and priest (because the priest said that girls must not wear pants), for bad influence, for bad influence, for bad influence …
When she was 13 while surfing the Internet she stumbled upon Russian Gothic Page. In 1998 it was not a huge portal like now, but a small site. Thus she found out about the Goths. That was a shocking revelation. She was not alone.
Later she began to draw not only her (sometimes she calls her "he") dreams but also fantasies of the others. People from all over the world were sending her their deepest and she followed them with great interest, painted and sent them back to the private collections.
Later she was interviewed by newspapers, she was on TV, she and her husband are well known in the Russian BDSM, goth and fetish society.
She's just 24. I can't predict what she will become later, but I do wish she would try to illustrate kids books, despite her addiction to frogs, toads, rats, necro-, graveyards, latex, blood, knives and needles her drawings tell stories and shine with warmth and kindness.
You can find Tammy here:
tammytanuka.livejournal.com – deleted
tammy-tanuka.livejournal.com – deleted
www.liveinternet.ru/users/tammy_tanuka – deleted
tammisfriends.jino-net.ru – old Tammy's site. Unfortunately it's not functioning anymore.