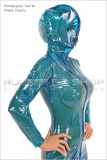 A bit of history. In the Breath control art, plastic bags or thin transparent film series of articles we touched the subject of transparent plastic suits covering you completely. Then Strappado started the Rain fashion and PVC fetish thread. Don't you think these topics are closely related?
As I said many times before – I'm not into breath control and autoerotic asphyxiation. But I do like (and dream of …) the idea of being completely encased in a tight transparent film. In my childhood I simply used plastic sacks and bags (with a hole for breathing) or a PVC/nylon jackets with a hood worn the other way around.
But apparently the manufacturers of fetish clothes either do listen to the clients or have similar fetishes. The suits on the photos below look almost perfect. What they lack (in my opinion) is closed feet and hands, but that would reduce the reliability of the suit. Otherwise they definitely remind the fetish art mentioned above.
As for loose fitting bodybags, I prefer latex to plastic. I have a transparent latex duvet cover I sometimes use to get in completely. What a feeling…
So, just add pantyhose encasement (see also pantyhose encasement on eBay) underneath and do not forget to send us your photos ;-P