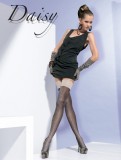 My daughter spotted animal patterned Oroblu "Daisy" stay-up stockings with 50% discount:
Daughter: Wow! I want these stockings!
Me: Nice ones. But what are you going to wear them with? Shorts?
Daughter: Hm… Rather with a swimsuit.
Me: Yeah, indeed. But not to the school, it's still too cold outside.
Of course we bought them (I love discounts). Yesterday she tried them on and told me that the stockings are very comfortable, they stay up as intended and do not slide down like the ones she had before. I wonder is it because of the quality corresponding the price, because she likes the design or because she wants to impress someone? 😉
See also Family, friends, colleagues and fetish moments or Home together forum thread.
Daisy Stay Ups

• DAISY are sheer stay-ups with a fading animal pattern.
• Light colored fading in the middle that becomes darker on the sides.
• Border recalling the lighter color of the fading, for a refined play of contrasts.
• 8cm High border with two silicone strips for a perfect grip.
• Ironed
• Non reinforced heel
• Non reinforced toes

Fiber Content: 84% Polyamide & 16% Elastane.