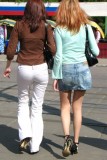 Ever been to Moscow? A completely different world of dressed-to-kill girls. Posh, expensive, thoroughly chosen clothes, make-up and accessories, "f* off" expression on their faces, high, very high, stiletto heels regardless the situation and place…
But rather strange pantyhose. Dull, greyish, "cold" coloured, "dead skin" looking. I don't understand why. Even in the shops (Wolford is the only exception) I could not find any transparent tights with normal "warm" colours. Just coffee-brown, dark suntan colour with a slight lilac shade and that light "greyish" one called "natural". Yes, you can buy black, blue, red, etc, but I mean close-to-skin colours. I checked Oroblu, Filodoro, Glamour, Levante, Philippe Matignon with exactly the same result.
The mostly used thickness is 20+ den. Very thin invisible tights are not in favour. Either bare legs or something robust.
I noticed only one(!) girl in thin (~10 den) slightly gleaming warm skin colored pantyhose.
I didn't make any photos, but you can check duremar's photo album1 and album2.