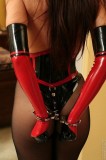 See other simple bondage posts.
The simple bondage series is a good illustration (or reference material? 😉 to MadJack's poll "How do you like to be tied? – Up or To?" and what bondage is about.
Also it's a good starting point for simple self-bondage session. With the exception of single-glove photos. While Strappado proved that single-gloves can be used in selfbondage (see Single-gloves in self-bondage – Strap Securing thread), the technique is pretty much advanced.
See 12 photos below.