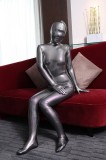 When I saw the photos (see 12 photos below), my first thought was:"Wow! Latex zentai! In my favourite pewter colour!". Then:"No, Marcy does not use latex". Actually, the surface is not even smooth, it's coated with some sort of scales.
Same old question: would you prefer latex, lycra or PVC? From some distance the look is almost the same. Even more, when the "pixels" disappear, such material looks more "like latex", then actual latex. And PVC is even shinier.
As a side note, I absolutely love Marcy Anarchy's (aka The Inventor of Zentai, aka Yasohachi Tukumo) photos. Japanese minimalism, Japanese perfectness, and Japanese balancing on the edge of madness can all be found in his works. Whether it's a zentai suit, or a landscape photo. And, what's more important, he loves what he does.
The links to Marcy's webpages, if you haven't bookmarked them yet:
Marcy Anarchy on Google+
Marcy Anarchy on Tumblr
Marcy Anarchy on Twitter
Tight fit Life
Tight Fit Life Mirror
Marcy on DL Market
His Flickr and Facebook accounts are not active anymore.