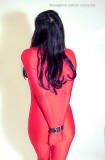 I've been thinking about this suit since many years ago, but still have not decided if I indeed am ready to spend money (quite a lot, by the way) on it. The idea is to use it alone for self-bondage. Not sure if it's possible, though.
On the other hand, putting the suit on should not be much more difficult then the pantyhose single-glove method. The belts can be used if bound by a partner.
This is a description:
"The monoglove suit is also suitable for those who are not enough trained to wear a usual monoglove. We deliver it also in a more restrictive form with an additional second belt in the elbow area. The arms can be fixed also in the crotch with a buckle. A leather collar closes the entry. No hoods can be attached.
Colors: red & black, also with appliqué colors. The shown is red/black. The leather parts are available only in black.
The pics shows Lycra we used in the past. The new fabric is much more shiny."