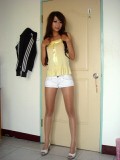 It took me one year to find the girl wearing these "unusual pantyhose" ! (The pantyhose turned out to be leggings, but let's not mention it 😉
Have a look at 19 photos below. Is it a trend in Indonesia? Is every pretty girl over there wearing pantyhose with microshorts nowadays? Apparently in NL the only two persons who wear similar shorts with shiny pantyhose are me and my daughter….
If you think that there is a better photo out of 19, than the one I placed on the left, please let me know.
Via Dinda Wirasti (Facebook)