It might come as a shock to some, but I
really do have a fetish for tights/pantyhose
and the more I can cover myself with the better! My challenge for this session was to use only pantyhose for my bondage… 😁
Equipment:
15den sheer bodysuit with closed crotch, built in hood, finger gloves and sheath
6 pairs 20den pantyhose (XXL size)
4 knee-highs
Ball
Large butt-plug
Condom
The session:
Dressing was, initially, very simple; condom over my cock, followed by the bodysuit. The bodysuit is the most wonderful item I've purchased for years, it is super sheer, ultra clingy and 100% covering. Once in the suit I would use the extra-large pantyhose to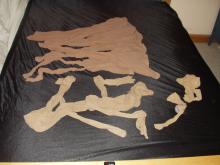 All ready to go – the toys for my session; doesn't seem much compared to my usual set-ups but looks can be deceptive!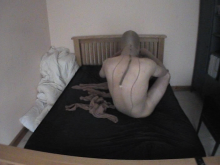 100% encased, well almost! – Butt-plug in, condom over cock, large ball (inside a knee-high) gagging my mouth and bodysuit on. The bodysuit is the most wonderful item I've purchased for years, it is super sheer, ultra clingy and 100% covering. Err, only it's not any more – when watching the video I spotted the tear at the bottom of the zip… noooooo! Looks like I've got some repair work to do!☹
I have added a knee-high over my cock and balls, already encased in the suit's nylon sheath, doubling it over to act as a combination of protection for the sheer sheath, de-sensitising of my cock and partial chastity device (it is so tight that full erection is difficult). One more knee-high goes over my already encased head, more for the feeling of it than any practical reason (though it does make un-zipping the suit a little bit harder…)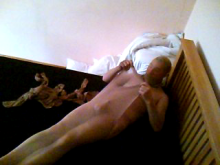 And now for more layers and bondage! – XXL pantyhose (actually sold as maternity tights) make it easy for me to slide both of my legs inside a single leg of the tights. I 'double up' the pantyhose legs, with one inside the other, for an extra layer of encasement which firmly but comfortably binds my legs together.
A second pair, this time using only a single leg, are pulled up my legs and above my waist with the 'spare leg' tucked out of the way – despite the layers over my cock I'm definitely aroused.
Two more pairs follow, still using just the single leg, but each with the 'spare leg' positioned to the side of my body (one right, the other left).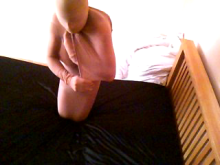 Now for the first tricky bit; I want to use the remaining two pantyhose as a 'single-glove' with one pair inside the other for extra fun and I should have prepared them first. Too late now and I struggle with my encased fingers to get them set up properly. Once this is achieved I pull the first leg (now with two layers) down over my head, with the remaining leg behind my back. On a sudden impulse I grab the end of this leg, pull it between my encased legs (nice feeling as it rubs against the nylon covering my butt-plug) and tie it quiet tightly around the base of my cock. MMMM –so erotic, and so turning me on!
Tricky part number two: I insert my arms, one at a time, into the spare legs of the tights covering my legs, pulling the waist up and over my shoulder on each side. I'm already well covered in nylon, with 5 layers over my legs, two over my arms and hands, at least 2 layers over my torso and a 6 layers over my cock (excluding the condom) and my head is encased in 4 layers of nylon, meaning I'm unable to see very much at all… but I'm not finished yet!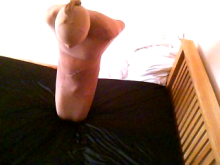 And finally my single-glove bondage; carefully positioning myself (balancing is incredibly difficult already) I reach behind me and work my hands into the double skin of nylon behind my back. If you've never tried this you should (link to Ra's pages) – the trick is to find the right size of pantyhose/tights to use, too large and the bondage isn't tight enough, too small and you can't get in (or you could get stuck!) I fumble with this but finally I'm in!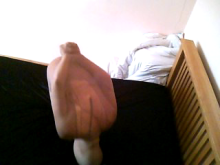 Oh my! That incredible feeling as your arms slide down into the waiting embrace of the nylon tube, the tightness forcing them together in a firm yet comfortable manner, unless you've done this describing it is very difficult – go and try it for yourselves (you know you want to!).
Ready for the fall – here I am again, teetering on the edge of my bondage scene. Deep breaths and then I lean a little bit further and fall, softly, onto the bed.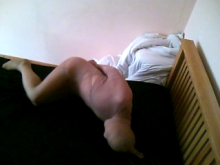 Ohhh that's sooooo good. I thrash around in my encasement self-bondage, revelling in the feeling of my body rubbing nylon against the satin sheet; So slippery and sensual as I feel the cool caress through the layers of pantyhose. The nylon leg of my single-arm is working a wonderful magic as each movement of my arms tugs the knotted end around the root of my cock causing my trapped erection to bulge in its layered prison of latex and nylon… FFFUCKKKK that feels good! I find I can twist the nylon around my wrists in a simple loop, pulling it tighter and increasing my feeling of helplessness – this is wonderful, just WONDERFUL.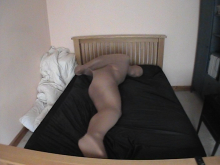 I'm struggling and twisting, trying to stroke my encased form against the satin cover of the bed when suddenly I'm falling…..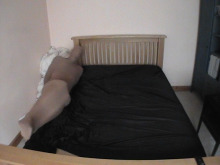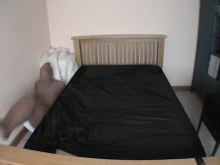 Disorientation, confusion, what happened? I feel fine, in fact I feel suddenly amazingly aroused, but why? I've slipped off the edge of the bed, but luckily onto the duvet I moved before starting my session. I've actually fallen perfectly into the most comfortable position and am, momentarily, stuck – trapped and helpless… it's almost the ultimate fantasy scene.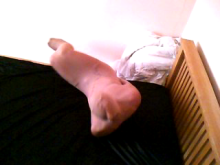 Regaining the bed – I have to get myself up and back onto the bed, staying down will be no good and my cock is aching for stimulation that can't come from my current position. But it's so difficult to get back up; I experience the thrill of feeling really, truly stuck – why is this turning me on more and more?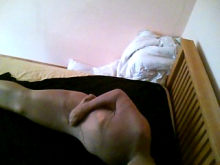 Desperate for release, but not freedom – I've managed to get back up onto the bed, but now I'm so aroused that orgasm is a must. I thrust and thrust my groin into the mattress, but it's no good… those many layers are just too effective at preventing enough stimulation. I try to fantasise, hoping to push myself into orgasm.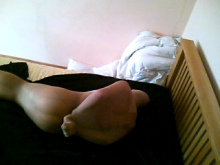 Despite some
deep, dark and, quite frankly, shocking fantasies
(and reviewing the video they came to me again ☺ 😁 ) I can't bring myself to orgasm and eventually I have to stop and lie still, exhausted and (pleasantly) frustrated by my efforts.
Escape was a simple process of reversing my arms out of the pantyhose 'single-glove', which though not easy (and delightfully hampered by the forgotten leg of nylon looped around my wrists) eventually resulted in my freedom.
What went well?
The unexpected event – the sudden occurrence of something I hadn't planned for and the element of surprise it brought to my session was quite incredible. It was, fortunately, safe and the risk of being stuck was more imagined than real – but somehow this all combined to be an amazingly erotic event. Unfortunately I don't know how you can plan to include the truly 'unexpected' into a self-bondage session…
Tying the single-glove pantyhose leg around the base of my cock and balls – wow, Wow, WOW! Why had I never thought of doing that before?! Such a simple thing, but it added so much to the session. Not only was I enjoying the feeling of the nylon tied around my cock, but I also had the added twist of tethering the end of my single-glove to my body. When you also realise that I could, however futilely, stimulate myself (pulling the butt-plug deeper inside and tugging my cock) this was a really neat touch. I will do this again!
What could be improved?
Preparation, preparation, preparation! - So often the overlooked element, I should have spent just a few more minutes getting my pairs of pantyhose properly arranged (legs in legs, etc.) and not having to fiddle around with my gloved hands.
Still seeking a method to be 'forced' to stay encased and bound – the challenge is how to bind my wrists in such a way that I have to stay bound for a time (if I can't free my wrists from the pantyhose 'single-glove' I will be truly stuck!); it would be easy enough to make my bondage inescapable (one-way strap around the wrists) but that isn't safe for self-bondage. One idea I have is to use footless tights/leggings as my single-glove; this would allow my hands/wrists to be roped together where they come out of the leg, but then I would lose the magic of being totally inside a cocoon of nylon… any suggestions or ideas?
Find the perfect size of tights/pantyhose/lycra for my single glove – I need a set-up that has a larger 'leg' my head and body go into, but a smaller (or better shaped?) leg for my arms. The tighter this is the better, but it must be 'escapable'!! In the perfect world I would get out the sewing machine and create a customised solution from Lycra…. Hmmm, I wonder…..anyone on the forum have experience of sewing Lycra? The more I think about this the more ideas I have for making it work – possibly a forum subject in its own right?
I hope you enjoyed my session - video to follow (I promise)
MJ