After my first session it was very late, past midnight, and I was so turned on I needed more and quickly! ☺
Equipment:
70den closed crotch nylon bodysuit
Large butt plug
Condom
Black Zentai suit
Rope
High-heeled ankle boots
Karabiner/Carabiner
Leg-spreader bar
Chair
Vibrator
digital timer
The session:
This was an immediate follow-on session after
my Zentai hogtie
- I was still dressed in my bodysuits, now sweat soaked, and enjoying my butt plug, and was spurred on by my arousal - I wanted more bondage, it had to be quick, it had to be intense and I wanted to cum. ☺
There was a chair in the room plus more of my bondage kit, so my solution was to bind myself to the chair with a timed massager to stimulate me – this was most certainly going to be a 'tied to' session
Sitting down half tied - my legs are already tied, lifted off the floor by a rope around each booted ankle that is fastened to the chair and also across the top of my thighs. You might just be able to see the massager under my crotch – pressing nicely against my encased cock (remember I needed an orgasm urgently). The massager is mains powered and controlled by a digital timer which will, after a set time, switch the device on/off for 60 second cycles of vibration in-between 2-3minute pauses – 10 cycles in total.
I've fastened my leg-spreader to the chair back and hooked the karabiner through an eye at the top as an easy connection point and a small cushion makes my head more comfortable.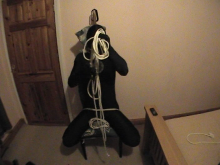 Now, what should I do with all these ropes?
Binding my head – for some reason I love the tightness of rope around my head, especially when using it as a gag and blindfold.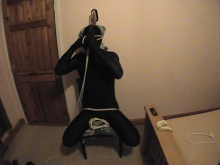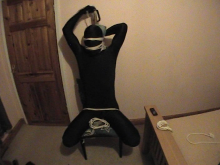 Due to the level of arousal I was a little bit more lavish with the ropes than normal with the wraps going around my head and pole behind me, gagging and blinding myself harshly. I also wound the rope around my throat (not tight, but very snug), rendering my whole head utterly immobile against the pole.
Wrist coils on – slipping my hands into the prepared coils and racing against the timer clock to be ready for the first vibrations.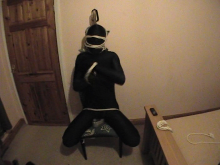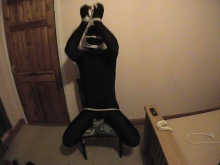 Once in the coils I reached upwards and behind my head to clip my bound wrists into the karabiner, holding them well away from my body.
Now I can sit back and relax – well, for almost 5 minutes I did, then the first vibrations started. I came very close to orgasm on the first cycle, closer on the second (the 2 minutes between seemed like hours) but the third cycle was too much and I finally achieved some release.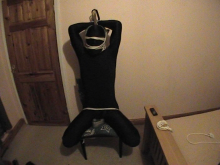 I did stay bound like this for a couple more cycles, but now that my lust was satisfied I very quickly struggled free and, after stripping off my sweat soaked gear, headed to bed for sleep.
What went well?
Another case of the simple things in life often being the best - A chair, rope and massager provided a wonderful experience and perfect ending to my evening of fun.
Head bondage is amazing, well to me at least! The caress of rope, especially through layers of Lycra and nylon, with it pulled so deliciously tight into my mouth turned me on so much it hurt.😋
Massager – a great position, almost too good in fact as it brought about my orgasm 15 minutes earlier than I really wanted it to (but I did REALLY WANT IT!), another one to try again.
What could be improved?
I should have been patient and gone for a proper self-bondage rig and made myself truly helpless. Ice-cubes could have made sit there and suffer those extra 15-20 minutes of vibrations; who know, I may have been 'forced' to cum again… now there is a naughty thought!😁
More rope – I know I loved my head bondage, but I think I could have done more body bondage and I know I would enjoy it… maybe next time when I'm a bit less aroused?
More cameras – this session was never going to be a source of great video/photos, but a few more angles might have made it look as good as it felt.
A shorter telling than usual, but I hope you enjoyed it
MJ