My home alone days where here and I wanted to re-discover some of my old favourites for self-bondage fun.
Equipment:
70den closed crotch nylon bodysuit
Large butt plug
Condom
Black Zentai suit
Rope (lots of!)
Head harness ball gag
High-heeled ankle boots
Karabiner/Carabiner
The session:
To kick-off my few days of freedom (err…) I decided to try a simple rope hogtie, but spice it up by using my Zentai suit, which had not seen action for some time. To add some extra fetish fun I would insert my favourite plug and also wear a second bodysuit under the Zentai one – well, I'm I pervert, what would expect?! As always the thrill as my condom encased cock slid inside the sheath of the nylon bodysuit ensured I was very eager to proceed with my self-bondage.
I had set up two video cameras, one looking along the length of my bed (I would be tied up, not tied to!) and the second at 90degrees to the bed where I expected my head to be.
All my gear ready to go!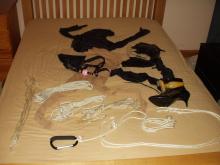 Ready to go with my ankles tied, with rope around and under my booted heels, then more loops below and above my knees, with a further loop at the top of my thighs (this is one I find especially sexy for some reason) – all cinched very tight!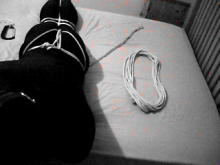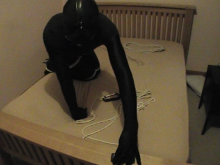 My harness gag is on and, of course, the well lubricated butt plug is inside my ass. You might also spot the waist rope that circles around my body and then passes down and through my crotch several times, pulling tight and framing my triple encased cock (and also pulling the plug deeper inside me). The pre-prepared wrist coils and chest/upper body ropes are all near to hand. I've already clipped the Carabiner, with hogtie rope, to my ankle bindings.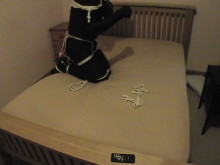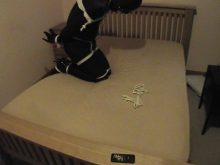 I'm struggling into the coils around my upper body. This is not as easy as some may think, with my legs tightly bound and the softness of the mattress contributing to my precarious wobbling - not at all sexy at this point of the proceedings!
The upper coils are in place and I've cinched them tight by passing a rope between my chest and arms (both sides), then up, behind my neck and back down again to prevent any risk of them slipping downwards (they really were tight so that risk was very small). Now I'm struggling to get my wrists through the prepared coils behind my back, with a sliding noose (the hogtie rope) ready to cinch the coils tight when I stretch out.
I'm ready to go, but slightly afraid. Is it just me who hesitates before the final act that will plunge me into helplessness? All the worries fly through my mind: will I be able to get free? Are my back-up plans in place? Will I be safe from unwanted disturbance? What if it all goes wrong and I get stuck? Deep breaths and then I pass the point of no return as I fall towards the mattress, feet kicking out in an involuntary act that snatches the cinch noose tight around my wrists and tugs my bound heels and wrists towards each other… oh sweet bliss it feels so good!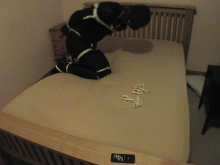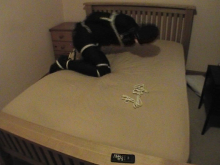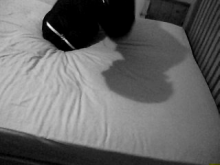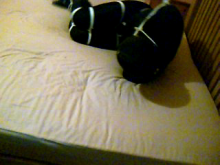 (this is so much better on video I must share with you all)
I writhe and struggle, testing my bondage and fanning the flames of lust that where reignited as I felt the first thrill of helplessness.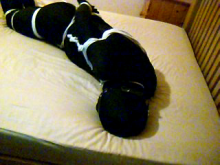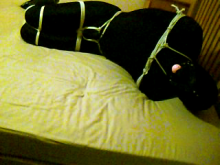 After my initial thrashings I change my movements to seek stimulation, feeling the exotic caress of nylon under Lycra within my enforced encasement.
Curse my own cleverness (or should that be idiocy?) – The bondage is too tight for my hands to reach my cock, no matter how hard I try.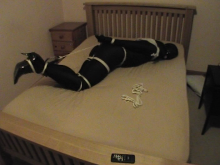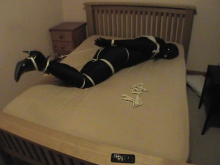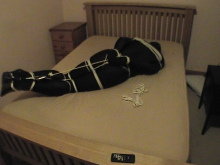 Worse still my cock is encased in three different coverings (latex/nylon/Lycra) and so de-sensitised that my frantic 'humping' actions to bring a desperately lusted for orgasm are hopelessly futile… but it's fun trying!
My self-bondage is controlled only by my own willingness to stay bound and after 20 long minutes I am exhausted and nicely frustrated by my efforts to cum; it's time to free myself.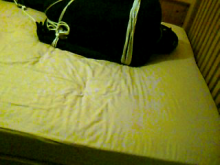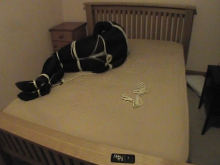 This isn't at all easy as the wrist cinch has pulled very tight and locked itself on – I experience a strange thrill as I struggle to overcome the resistance of the rope, my actions hampered by the Lycra over my fingers. Incredibly my flagging erection is rekindled as I work at the knots, what a wonderful feeling.
Free at last – well, almost! My wrists are out of their bindings and my hands make and almost involuntarily move to my cock.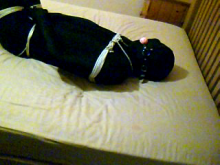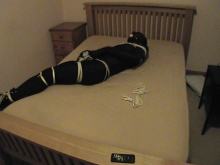 Yet even now I'm frustrated as the cleverness of my dressing prevents an easy orgasm and leaves me once again frustrated but strangely happy.
What went well?
So many things just worked during this session.
The ropes – so nice and tight, but also very comfortable for the 20minutes or so I was bound, and I didn't have any bruises or marks afterwards which is always a bonus!
Double (or even triple) encasement – why I haven't tried the combination of both a Zentai and nylon bodysuit like this before I will never know! The feeling of nylon next to my skin being rubbed (or should that be 'caressed'?) by Lycra was utterly amazing and I really enjoyed my helpless wriggling on the bed!
The combination of latex (condom), nylon (bodysuit sheath) and Lycra (Zentai suit) over my cock was a wonderfully frustrating feeling; sensitive enough to become aroused but not enough feeling to orgasm… perfect for holding my lust and arousal at just the right level.
Tied up – you may have read my post (
tied up or tied to?
)and even voted about the merits of being 'tied up' versus being 'tied to' and how I felt that 'tied to' was better… well this session was a very big celebration of being tied up'– simply put I loved it!
What could be improved?
To be tied longer and be truly helpless – it's always the same, I started out looking for a (relatively) easy to escape bondage but near the end I wished (oh how I wished!) the session could have 'made' to last longer. This may seem strange to some 😒, after all I could have chosen to stay bound for as long as I wanted, but there is something much, much, more erotic to me in the feeling of true helplessness, knowing, without any doubt at all, that I can't get free when I want to and that I have to stay bound and helpless until something I have no direct control over finally frees me. 😇
Use my full nylon bodysuit – for this session I wore my 'closed crotch' bodysuit with sheath, long sleeve and high neck, which was amazing, but I also have my full bodysuit with fingers and head (see this post -
Pantyhose bodysuit
). I'm certain that would be even more fun!
Shorter rope between ankles and wrists – I want this just to make the bondage that little bit more stringent and in an ideal session my legs would always be bent and my wrists held under tension due to the shortness of this rope. Maybe a bar of some kind might work better?
A better gag – my head-harness ball gag is 'ok', but that's all. I crave a much more challenging, mouth filling, gag that will really make me feel vulnerable.
Correct camera angles/more cameras – as you will see I messed the angles and missed some possibly great shots, maybe a third (and fourth?) camera will solve this? On the same subject I have some new video software and hope to be posting some short clips soon (much editing required – plus conversion of media files), however I should warn you all that I am not yet up to the superb standards set by Anne! (see post
Anne's shiny selfbondage
)
I hope you enjoyed this retelling of my session as much as I enjoyed doing it! 😁
MJ