Here's an example (kudos to style.com). What do you think the models are wearing on these photos:
Latex stockings? Latex tights? Wrong. The says "OMO Norma Kamali black leggings". Google crosses all the "t"'s.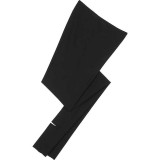 Lycra leggings €134.00
(definitely can be bought here cheaper, though)
Black lycra leggings. Norma Kamali for Everlast leggings has an elasticated waistband and horizontal vents across heel. 96% polyester, 4% spandex. Hand wash.
Ha-ha… Now I doubt that Alessandra Ambrossio was caught wearing latex. And the shine on her legs looks very suspicious… No, I'm not saying that the leggings are bad, quite the contrary, but they are not made out of latex.
Same leggings in white (kudos to TeenVogue)
And a couple of pics of Rachel Bilson from Teen Vogue:


Don't eat that yellow snow. And don't trust photos.