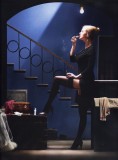 See the previous parts here.
Some interesting facts.
The black&white photos below (1984) show the band called "Bravo" ("Браво") and Zhanna Aguzarova (Жанна Агузарова) in her shorts and pantyhose with lurex being arrested right on the stage for not having a proper registration. Actually, she forged her passport. Currently she claims, that she's a martian. Fantastic voice, but wired to the moon.

The girl in black fishnets is a talented writer, poet, song-writer, composer, singer, actor, performer Olga Arefjeva (Ольга Арефьва). It's very unusual to see her in that outfit. Usually she wears something wide and long.
Anna Semenovich (Анна Семенович) – a retired ice figure skater. Now a model, singer and actor.
Julia Nachalova (Юлия Началова) – a singer.