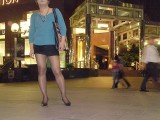 Wearing shorts with (usually shiny) sheer skin or tan coloured pantyhose is something I've got used to. This is what I wear during spring, simmer and autumn. I can't imagine myself without pantyhose. This is something I consider "normal" or, rather, "usual" clothes. Sometimes I forget that I wear "pantyhose in public" (WOW! A man is wearing pantyhose in public!! Nah… nothing like that. Nobody cares, nobody notices).
But look at Hikaru Mukai from Tokio. He's made a huge step forward – he wears sheer black shiny pantyhose with shorts. (Yes, in public. Who cares what you wear at home 😉
He says nothing about how people react (apparently there is no "interactive reaction"), but you can see on the photos that people do "notice him".
Do you dare? 😉
20 photos below. Thanks to Hikaru Mukai.
See also: Men in pantyhose forum thread.