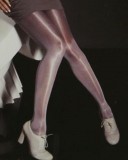 Just stumbled upon this ad on eBay:
Super shiny glossy satin Silky Pantyhose Fiore Elite Raula 40 (found in this pantyhose webshop).
Never heard of this brand before. Any experience? They look pretty much shiny (diffused shine) but it could be the lighting. Also I've got a feeling that the girl on the photo is wearing white glossy pantyhose over dull brown ones.
4 images below.