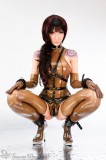 RSS aggregator for Tumblr fetish and bondage resources (the list is being updated constantly).
UNMODERATED!! MAY BE NOT SUITABLE FOR WORK OR A LIVING ROOM WITH FAMILY AROUND!!!!
This is a live stream with hundreds of pictures, posts may disappear forever at any time, so if you find something interesting, do not wait! Save the images and post them in the forum.
Check several pages for updates, because new posts may appear anywhere for several reasons (e.g. new stream added, wrong post date, etc.)
Leave you suggestion in the comment field below, or in this forum thread.
See other RSS streams.
---
No images? Please visit again later, most likely one of the streams is broken or the server is overloaded (the streams are generated on the fly).