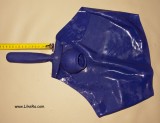 Usually it takes me a lot of time to decide what fetish/bondage "object" to buy. It must be multifunctional. It must be practical (in the sense of bondage, self-bondage or everyday use) and it should not cost too much.
These shorts is a very good example of the "usage flexibility" in possible scenarios, DIY solutions or as everyday undergarment. I can't say that the anal sheath is very comfortable especially with usual plugs or dildos, but it's very practical with small toys (ben-wa balls, stones, small vibrators), because it does not allow them to disappear "in the deep".
The balls sheath with a cock ring keeps you interested if you are wearing these pants under, for example, thin transparent shiny pantyhose (see a photo below). What also makes the pants very suitable for spicing up your daily life.
Also it can hold a piss condom in place (you can connect the tube to whatever your fantasy can think of 😉 see photos).
See 10 photos with comments below and the discussion in the forum here.
[spoiler intro="Some nudity here" title="Look around before clicking"]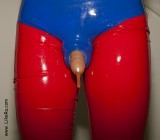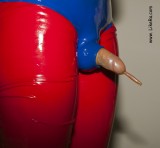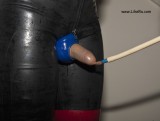 [/spoiler]