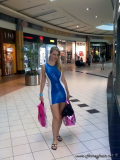 This is how Honeyhair goes shopping. It seems that not many people can recognize latex and distinguish it from any other materials. This is what she wrote:
Bought some new clothes, tried shoes and got a compliment from a shop assistant what a lovely dress I am wearing 🙂 I think she thought it's some kind of leather because she showed me their leather collection then
So if you are still hesitating "to wear or not to wear" latex in public – relax and do wear. Just as with men in pantyhose: nobody notices, nobody cares.
See 8 photos below. Love the dress, by the way.
Credit: Honeyhair