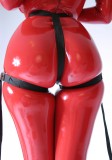 Live Pinterest and Flickr streams are similar in terms of RSS format and update frequency. Also they do not require accounts in order to view full sized images. Hence a separate post.
UNMODERATED!! MAY BE NOT SUITABLE FOR WORK OR A LIVING ROOM WITH FAMILY AROUND!!!!
Leave you suggestion in the comment field below, or in this forum thread.
See other RSS streams.
---