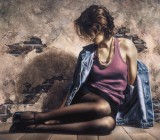 "Paul Kelley is a Canadian artist, born in Nova Scotia in 1955. … His quiet lifestyle belies Paul's acute sense of the elements of fundamental beauty and sensuous allure. Paul understands the subtle difference between "sensual beauty", and "sexual eroticism". …
Paul's art is a labor of love. Each realistic painting is the result of hundreds of hours of work involving the careful manipulation of light and form, colour and composition, to create an image which is passionate and alluring. Whether the subject is a marine art or a young woman in high heels, the result is a balanced image which is both powerful and yet serene, mysterious yet inviting. Whether or not the piece is sensual art by subject, the result is a painting which is sensuous art in it's essential form. "
This is what Advent Art website says about Paul. "…a young woman in high heels…". Something important is missing in that phrase… Namely – "pantyhose and stockings".
You will struggle to find a superrealistic painting or drawing where a woman, or a girl, or a group of women is not wearing nylons. Even if there is no explicit accent on the delicate legwear, it's plainly obvious – according to Paul, pantyhose is a necessary part of the image (Hey, don't we agree?)
Sometimes he's balancing on the edge but even I can't accuse him in "depicting upskirt" (I hate upskirt…).