My final session of this 'home alone' time and one I really wanted to take me over the edge…
Equipment:
70den open crotch nylon bodysuit with sheath
15den sheer bodysuit with closed crotch, built in hood, finger gloves and sheath (ultra sexy)
20den open crotch nylon bodysuit
20den sheer pantyhose
8 knee-highs
Large butt plug & Large dildo
High-heeled ankle boots
Black Lycra body
Rope
Condom
Wooden spreader bars
Digital timer
Mains powered vibrating egg
leg cuffs
Large ball for gag
SRD, laundry bag & ice cubes
The session:
One of my fantasies is to apply my self-bondage and then be 'forced' to endure stimulation that I have no control over – this usually takes the form of some kind of vibrator, but if challenging to get just right. My usual choice is a large mains powered massager (for sports injuries) but that is very bulky and can be too strong (early orgasm takes away the fun!). for this session I was test piloting an adapted 'egg' type vibrator, which I've converted from battery to transformed mains power (actually an old mobile phone charger).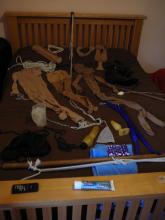 The kit ready to go – says it all really, everything laid out and ready to be worn, inserted, used or fastened. I wanted to use the big dildo, but my ass wouldn't relax enough (any suggestions?) and so I reverted to my butt-plug.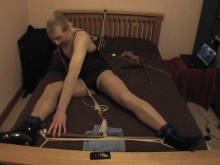 Legs spread – I'm dressed up in all my pantyhose, with the awesome feeling of full encasement ensuring I stayed aroused. My legs are spread wide and locked onto the spreader bar, which is firmly roped to the bed. The SRD is set up so that the ice cubes in the laundry bag anchor it to the spreader bar. I'm also gagged with 3 knee-highs already pulled over my head.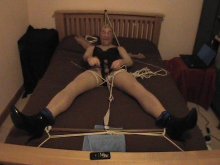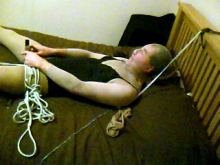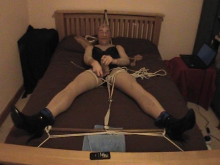 Cock and crotch bondage – I've placed a second, shorter, spreader bar underneath my upper thighs. Using rope I've then bound myself tightly to it and prevented my body from twisting too much. Naughty MJ has also used a thinner length of rope to indulge in some cock bondage - not too tight, but I find it very nice. I've also added a small, stiff, tube that fits tightly over the centre eye of the spreader bar under my thighs. This enables me to bind my cock in an erect position, snug against the tube. The final act is to slip the vibrating egg inside a knee-high and pull this snuggly down over my tightly bound cock…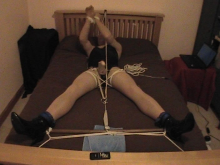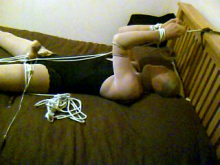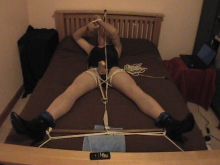 Wrist ropes and cinch – my helplessness approaches. The wrist coils are passed through a cinch rope that is lopped to the headboard of my bed and then down to the SRD. My hands are double encased in knee-highs for extra helplessness meaning my hands are encased in 3 layers of slippery nylon, making every effort to bind (or free) myself a real challenge.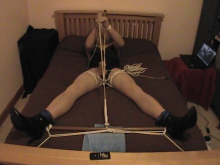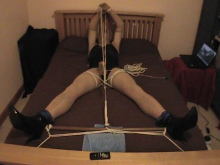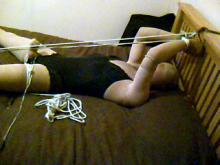 Pulling myself to helplessness (happiness?) – I pull the free end of the rope passing through the SRD, each tug brings the cinch around my wrist loops (already snug after twisting my wrists) tighter. The final pulls draw my helpless wrists upwards to the top beam of the bed. Now I'm utterly helpless until the ice melts.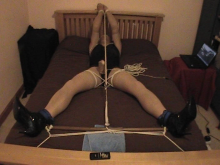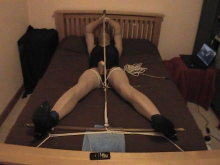 The timer is teasing me – Ahhh! This is awfully good and agonisingly bad at the same time. The vibrator is not strong enough to really arouse me, but is strong enough to make me wish it was! My tests proved the vibrations would be very arousing, but relied on the egg being pressed very tightly against my cock. My helplessness effectively prevents me from correcting the position of the egg, which has slipped to one side, and so I can only suffer the frustration of the vibrations as they slowly cycle through their programmed tease. I'd set the timer so that I used all 10 of the programmes, 5 minutes apart with the first 5 cycles running for 1 minute only, the 6th for 2, 7th for 1 minute , 8th & 9th for 2 minutes and the 10th for a climax forcing 3 minutes.. or not in this case! My bondage lasted throughout the entire cycle (over an hour) and I was desperate for an orgasm by the end.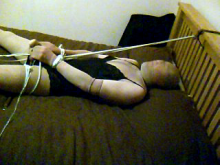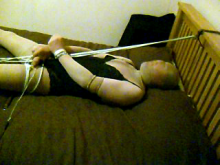 Freedom at last – the ice has melted enough to free the SRD. My first thoughts are not for escape from the ropes, but another sort of release that was denied me!
What went well?
My bondage position – so comfortable, so sexy, so helpless! This is a position I think I could keep up for many hours if I wanted to.
Multiple cameras – I think I'm starting to get the hang of using more than one camera, next step is to start editing the videos for sharing... that is if you want me to?????
What could be improved?
The teasing – it was so close to perfect it was painful (almost literally!) but I need to work on it a bit more. The vibration has to be either more powerful or held tighter against my cock.
Adding more elements to the tease – the vibration is great fun, but I wanted more, More, MORE! Not sure what yet, but will work on it. 😁
Dildo in ass – this is embarrassing ☺. I really wanted the dildo up my ass, but NO WAY was it going to work and so I swapped to the butt plug. But during the session
I know
that the dildo would have been soooo much sexier 😇 . This is an problem I do suffer from – some days the beast slides in without any effort, but on others it doesn't matter how much lube I use or how turned on I am it simply will not go in there. Now I've seen some of the HUGE plugs and dildos other people can get up their ass and mine is comparatively small… so what am I doing wrong? What might help?
I was a great session to end my 'home alone' time
Enjoy
MJ