Yes! I fixed the video problem, so I hope that the pictures will paint a thousand words here!
Equipment:
70den open crotch nylon bodysuit
20den sheer pantyhose
5 knee-highs
Large butt plug
Condom
Home made 'penis' gag
Duct tape
Black lycra body
Large plastic bag with attached breather tube
Elastic band
Vacuum cleaner
Digital timer
Ear Plugs
Plastic pipes and pair of socks!
The session:
Spurred on by the results of my first session of the day (
MJ-SB04/2012
) I wanted more of the same, only different!
Fixing my video capture was number one priority and took no time at all – fix was to RTFM ('Read The F@@@@g Manual'

– something the human male, especially me, very rarely does!), too late to salvage the lost session but good to go for round 2.
My clothing remained unchanged, but I did add two extra wraps of duct tape around my head to further secure the gag in my mouth (my saliva from the day's first session had cause it to loosen).
I moved the plastic bag to the bed, wedging the vacuum cleaner pipe under the foot-board to ensure it couldn't move during my session. Inside the bag I added a 90degree angled connector pipe plus a 1m length of additional pipe (important tip coming up).
To make sure the air would be sucked from the bag I had to ensure the pipe wasn't going to be closed off by the plastic – to solve this I used an old trick with a pair of socks. One sock went over the open end of the pipe (which would be close to my shoulders) and the other went over the end of the vacuum cleaner pipe where it connected to the 90 bend. In both cases the socks allowed air to be sucked though by the vacuum cleaner and prevented any chance of plastic sealing the opening whilst any air was left in the bag.
With timer set and everything ready I started my session….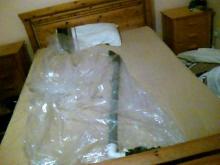 1. You can see most of my set up here, bag on the bed, with vacuum and tubes in place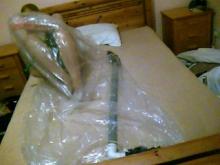 2. Getting inside the bag – sliding my nylon encased body into the plastic bag always feels so very sexy!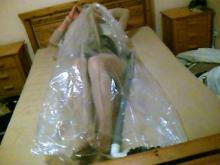 3. Connecting my gag to the breather pipe – safety first, do not seal the bag until you know you can breathe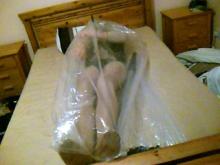 4. After sealing the bag I pull two knee-highs on each arm, now I'm almost 100% encased in wonderful sexy nylon. Also my hands are now almost useless as my fingers slip and slide ineffectually against the nylon and plastic around my body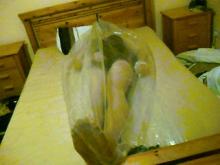 5. Waiting for the vacuum to start – I couldn't resist a little 'stimulation'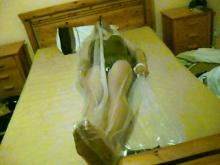 6. First 1 minute cycle – I'm helpless, but there is a slight leak somewhere and though I am well 'vacuum packed' it's not as intense as last time. I love the tightness around my cock though!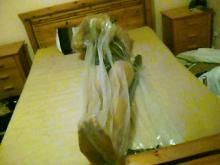 7. Now into my 4 minutes respite and I'm trying to make a better seal, but it's a struggle.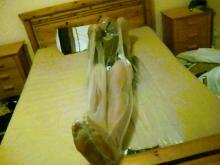 8. Vacuum is suddenly back on and I'm now trapped for 5 long minutes in an unintended pose – but it's rather fun to be doing something different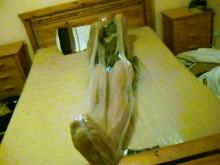 9. Still trapped and unable to escape, but I know the seal is still leaking and that takes away some of the fun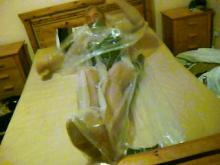 10. Freedom at last! But also a sense of disappointment
What went well?
Lying on the bed was very comfortable – if only I was sure of the safety (vacuum cleaner NOT bursting into flames) I could do this for much longer
Video capture worked – Yes! Once more I have defeated the forces of evil software design!
What could be improved?
The seal leaking slightly – This happens too often and I can't seem to find a 100% effective way of making the seal work every time… practise, practise and more practise is required!
HD web camera – anyone got experience of, preferably cheap, HD webcams?
Hope you enjoyed and please
PLAY SAFE
MJ