I was so aroused (but not yet satisfied) by my first session that, after a short break to refresh myself and take on fluids, I had to try again, but this time a new scene …
Equipment:
70den open crotch nylon bodysuit with sheath
20den open crotch nylon bodysuit
20den sheer pantyhose
6 knee-highs
Large butt plug
High-heeled ankle boots
Black Lycra body
Rope
Condom
Wooden bondage post
Home-made 'penis' gag (with hole to connect to breather tube)
Duct tape
Large plastic bag with attached breather tube
Elastic band
Vacuum cleaner
Digital timer
Ear Plugs
The session:
This session was a lesson in preparation and also in knowing your limits. The preparation was that I'd constructed a simple 'bondage post' and base that would allow me to wear my high-heeled ankle boots inside the bag, without risk on puncture, and experience the feeling of being bound upright to a rigid pole behind my back. I had added both the boots and my favourite sexy black Lycra body (just for the 'look' of it), which simply went on top of what I'd worn before.
Knowing my limits came later…
☹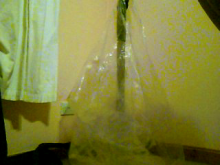 1. Pole position – the bondage post inside the bag, sitting on a towel to further protect the bag from damage on sharp edges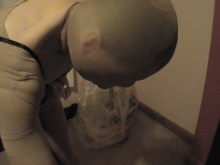 2. Is this thing on? – a candid shot of me double checking that the video is recording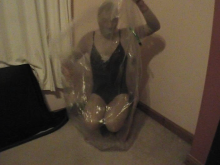 3. Getting into position – originally I had intended to be stood upright, but the bag was fractionally too short, so I had removed the original 1.8m post and replaced it with a 1m tall one. To work with the shorter post, but retain the boots I wanted to wear, I decided to squat/crouch down on my thighs with my back against the post. Note that I've tucked both the rope and extra knee-highs in the top of my lycra body.
4. Getting the seal right – no matter how often I do this I always, always, seem to leave a gap in the seal at the first attempt (as it did this time)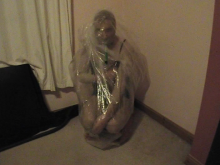 5. Double encased hands and rope is ready to go – I've pulled two knee-highs over each hand, up and over my elbows, and the pre-coiled rope is ready for my wrists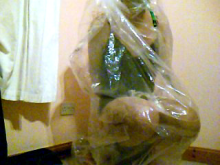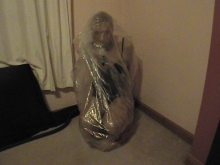 6. Roped to the post and waiting – by forcing my wrists through the coiled rope from opposite directions (from left to right & right to left) and then twisting them so that they both pointed downwards they are now tightly bound together behind both my back and the post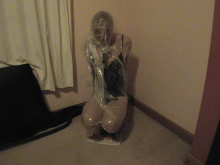 7. First cycle and a leak – damn it! The plastic pulls tight, but not tight enough and I can feel a cool draft from a leak in the seal near my head. I have to wait for the one minute cycle to end before I can fix this because although the seal isn't 100% the vacuum is strong enough to render my hands truly helpless.
The leak is hopefully fixed and now I wait – I've re-sealed the opening and am awaiting the 5 minute cycle to begin. My knees and calf muscles are starting to ache a bit, but I'm so excited at the imminent helplessness that I ignore the discomfort.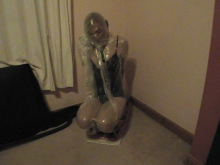 8. Oh yes, that's better, if not perfect – the seal is still leaking but only a little and vacuum is very effectively holding me utterly helpless.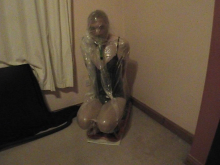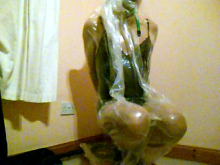 9. Oh dear, that hurts

– this is turning out to be one of the longest 5 minutes of my life. My knees and calves are burning with the enforced position I'm in, whilst at the same time I'm aroused by my helplessness to escape. I urgently want the pain to stop

, but not the bondage, which I want to be more especially around my head (that leak means the pressure is nowhere near as intense as before). Mixed emotions of fear and pleasure, desperate to be free and longing to be bound – I am not a masochist and this session proves it, but still I revel in the helplessness I've created for myself.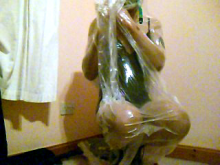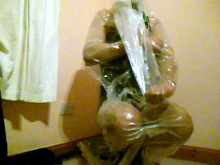 10. Sweet release – that felt more like 5 hours, but at last I am free and able to stretch out my lower legs.
What went well?
The bondage post - it really worked and was much better than I had imagined when combined with the wrist loops and vacuum. All in all a sensationally erotic addition to the session and one I WILL try again as soon as possible… once my legs recover that is!
The penis gag and breather tube combination – as I stayed stuck and head bowed towards my knees, helpless in my self-imposed bondage, I could feel the steady flow of saliva from by drooling mouth as it dribbled down the breather tube and dripped between my encased thighs. Somehow, through the discomfort of my predicament, this seemed to be an erotic event beyond my normal understanding. I began to fantasise about the steady drip falling onto the head of my cock, teasing and tormenting me in my helplessness – this needs further investigation…
The safety timeout of 5 minutes – thank the gods I'd stuck with 5 and that it wasn't 10, 15, 20 or more! Lessons learnt! ❗
What could be improved?
Not rushing in like a fool and pushing myself too far – this was turned out to be a very risky scene and I should have been much more careful and undertaken a proper 'dry run' first. Had I cramped up or simply been in too much pain the consequences could have been very serious indeed. The minimum would have been a badly strained muscle and I might have fallen over, which could have been much, much worse. Sometimes we have to learn some hard lessons and fortunately for me this one was not as hard as it could have been.
That seal again – help me someone, there must be a better way to make an airtight temporary seal when you're inside a plastic bag.
Play safe… at the very least play safer than me

MJ