Always liked the idea of the 'wooden horse' torture device, but always had trouble finding a way to do it safely to myself at home.
I found this, it's a strong heavy duty stand designed for musical keyboardists (model number - quik lok WS241). Not sure what the maximum weight is supposed to be, but I weigh about 80KG and with the central section at it's shortest setting (which would be the strongest) this stand seems to easily take my full weight.
Obviously if you straddle it the it would be less weight on the stand so would be fine - DO THIS AT YOUR OWN RISK PEOPLE!
For me it was perfect as the height is adjustable too, at maxumim height the cross bar is about 38 inches from the floor (about right for me and I'm 6feet tall), so you may have to get creative if you need it higher. wooden blocks/bricks under the feet could raise it higher.  Also the bar in the middle is about 3cm wide, so just right to not want to rest on, but ok for a few seconds.
Lots of fun and potential for a bit of self punishment, I thought! Especially if you get a few ropes involved. Cost about £60.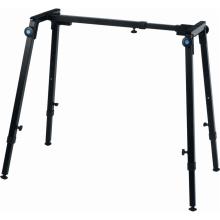 Basic concept :