What do you do when you and your family is on a non-fetish shopping (or at least when you already showed all fetish-looking clothes you could find around to your wife and kids) and you have nothing to do (e.g. when you do not need any clothes)? I usually find a sitting place with magazines and look for pantyhose/latex photos or compose posts on a smartphone.
This time I was lucky. In German "Vogue" (April 2012) I found weird tentacle-like clothes (to be posted about), a latex-look coat and latex overknees/stockings (see below). The latex-look coat turned out to be "Black Vynil-Effect Leather Short Sleeves Basque Top" from Céline. But the latex stockings is another story.
I always have a photo-camera with me and always try make several shots of photos and addresses of the articles which caught my attention to check further on the Internet. In supermarkets, warehouses, news stands, does not matter. Or at least write down the name or web-address of the manufacturer or the name and the issue months of the magazine I find interesting or worth reading.
According to the Vogue the manufacturer is "Très Bonjour". Quick Internet search and here we go: http://tresbonjour.com/, a Berlin based company that makes very expensive latex clothes. According to their press-corner their production is generously featured in fashion magazines. Yes, latex is very popular nowadays.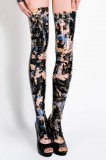 But it's not the price or popularity what makes me post about. Look at the stocking design. No toes, no heels, more like stirrups I whole-heartedly hate on myself and on others if visible. But on the other hand…
Yes, most of us would prefer proper stockings and pantyhose to their "castrated" equivalents. But from the practical point of view, the feet is the most vulnerable, uncomfortable, dangerous and generally problematic part of hosiery. The toe and heel area pulls the garment down and since it carries most of the burden it gives up first.
If we are talking latex, the things get much worse: squishy and very slippery pools of sweat and lubricant and toe crushing vacuum.
Get the idea? By cutting off the most problematic and not that important for the total look part, they increase the public acceptance and prolong the life of the fine latex garment. Smart move…
The following details also worth mentioning:
Back-seam design. No ugly seam on the inner side.
Perfect fit. Made-to-measure and "no socks.
Very transparent and perfectly skin-toned latex. The stockings themselves and air-bubbles are almost invisible on legs.
Transparent creamy-pale-white wedding style with white seams
Interesting "Stardust" pattern. Haven't seen it anywhere yet.
Lots of accessories
But still…. too expensive…