If you would like to use search functions, view attachments or play games, please consider registering.
Virtual Show High Heels Museum. Anything for you?
What shoes would you like to have in your collection?
Start, for example, with
high-heels
and
extreme
.
This ones look quite useful. Also for suspension self-bondage 😉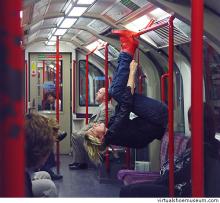 I'll make the admission, as an self-confessed footwear fetishist I generally don't like thigh-boots, I prefer boots knee-length. I'll perhaps make an exception for lycra stocking-boots (remember 'Hollywood Heels' anyone?') but I've yet to see a pair of leather (or even, gasp, rubber) thigh boots that have a satisfactory fit about and above the knee.

That said I do own two pairs of high-heeled black rubber thigh boots (one pair with and one pair without platforms). Both are a disappointing fit above my knees. Although quite tight fitting they won't stay up by their own elasticity and after a few steps the weight of the upper leg part makes their knees go all baggy ☹

As an aside, a pair of Dolcis over-the-knee boots were the first fetish clothing I ever bought when I first left my parents house over thirty years ago...until then the only thing I'd ever bought for pervy purposes were the Lyn Marshall yoga books...
Since I do not visit any fetish parties, I'm pretty happy with 5" stiletto heels from Pleaser (an article about these shoes is in my queue and yet to be published). I use them for both self-bondage and fetish photos. (The old shoes are completely broken
http://www.likera.com/eq/misc/heels1.php
).
If you are bound you're not supposed to walk around, are you? So 6-7-8" heels look quite appropriate here. Probably next year ... But I have quite a long wish list already 😉
The shoe-gag
here
looks like fun. I have never considered something like that in SB, but... hmmmmm...
(28 Aug 2010, 19:06 )

spandexed Wrote: The shoe-gag here looks like fun. I have never considered something like that in SB, but... hmmmmm...
The shoe is not even inserted in the mouth.... Nah ... booooring ... 😉
20kg? Even Kylie would overload them.
Contributors: Culmor (3) , LadyTz (1) , Like Ra (5) , spandexed (1)