A
Is an anchor point on the wall, like the ones to leave the towels.
B
Are a pair of nippleclamps. They are connected to A. If you have one of those that the more you pull, the more they strech it will be perfect. Make sure that you link they to the wall in a way that if you are standing on your tiptoes then they do not pull your nipples. Clothespins can be used too.
C
Is a chastity belt. Just to make sure that even if you can reach it with your hands you'll not be able to remove the buttplug. (tomorrow I'll post photos of my homemade chastity best)
D
Handcuffs. They're conected to
E
E
A chain that links your hancuffed hands to a collar, so it doesn't let you reach the chastity belt or try to remove the tubes of the buttplug.
F
An inflatable buttplug secured into you with
C
. The tubes have been extended to put the valve under your feet. (check your local hardware store for pneumatic tubes and connectors).
G
Is a collar linked to
A
with a chain to prevent you to pull out your nipples clamps or just to make sure you're not going tu turn 180 degress and rest your back against the wall.
H
Is your key to freedom. Use the release method that you prefer. Let me recomend you the Selfbondage CD Tray Opener Beta 3.0.
I
Is the valve to inflate the buttplug. You can use two of them with the same buttplug (using a conector like
K
); one valve for your buttplug and another one for an infatable plug (only players with vagina), or just one valve under one foot, so as you'll have your feet tied together if you don't stay on your tiptoes you'll press the valve and you'll inflate the buttplug. You can also put on pantihose to prevent the valve to moves from the bottom of your feet.
J
Something attached to your heels that hurts when you put all your weight on it. It can be a chain. This will prevent you from just stay standing without being in your tiptoes.
K
The connector of the tubes from the valve(s) to the inflatable plug(s)
L
Is a backpack with weight to make the session funnier (you'll get tired before, when you put your weight on your heels it will be more painful, etc...)
M
Is a laptop. You can run the Selfbondage CD Tray Opener Beta 3 to tease you when you make a sound or a movement (external devices are required).
To see how it works take a look at:
http://www.likera.com/forum/mybb/showthread.php?tid=400
Of course you can use your favorite gag, blindfolds, etc...
This is how I keep my buttplug on place (it looks like that one):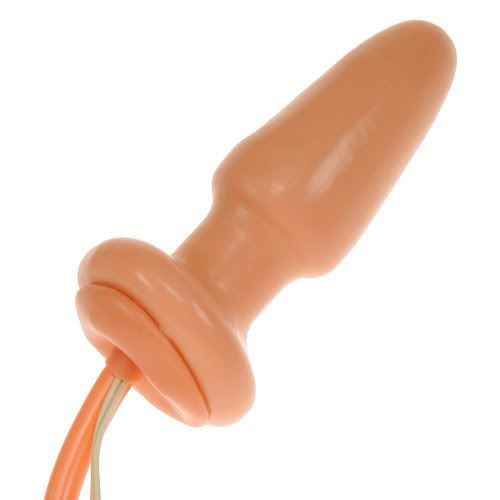 First of all we need a keyring (one of those that you have to use a screwdriver to separate the coils) and two chains.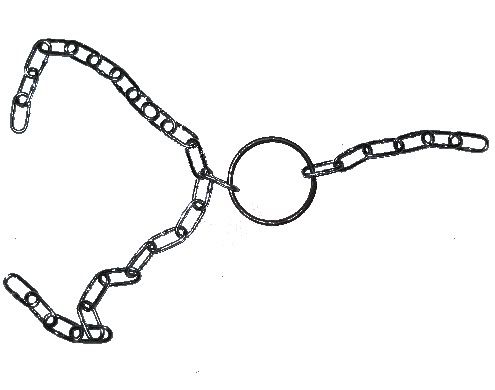 The diameter of the keyring must be enough to let the tubes and cables of the buttplug pass though it. The long of the chains depends on every user.
I also have a cheap cotton belt that I secure to me with a padlock:
So when we'll get the plug inserted into us the whole thing may look like this:
The single chain goes to the back and as it is not long enough to arrive to the belt we will fasten it (and secure it) with a ziptie:
Finally we will make the same in the fronside with the longest chain with two zipties:
In that way I can't take the buttplug even reaching it with the hands.
Sorry for my bad English.