MJ-SB06/2010: A night of unexpected SB (part 2) – More vacuum fun (and agony)
Equipment:
Leg Avenue long sleeved body stocking (Nude)
Black turtle neck, long sleeved lycra body
Black Aristoc 40den pantyhose (with hole in gusset)
3 pairs Tan 20den pantyhose
7 x Tan 15den knee-highs
High-heeled ankle boots
Large butt-plug
Condom
Duct tape
Ear plugs
Breather tube
Rope
Vacuum cleaner
Large plastic bag
Elastic band
Towel
Digital timer
Curtain pole
The session:
After the successes of my first session of vacuum self-bondage I was really keen to try some alternative positions and scenarios, but firstly I needed to take a break and get some fluids inside me before I dehydrated – you sweat an awful lot inside shrink wrapped plastic! I removed the knee-highs and gag from my head, but kept everything else on (and 'in' in the case of the butt-plug!). One thing I also wanted to do was review the video I had shot of myself earlier and download it to the PC, leaving plenty more room for my next adventure.
I was so elated with my earlier exploits I wasn't thinking too clearly as I tottered down the stairs in my high-heeled boots, and started to open the door room where I knew the camera software was kept (if you recall, I had to rebuilt my PC from scratch after a rather nasty virus got in via a malfunctioning McAfee firewall – I hadn't yet reloaded the video editing and camera downloading software). With it being dark outside (the time was now well past 20:00hrs) I'd thought to simply walk in, draw the open curtains and then switch on the lights – thankfully I remembered at the very last instant that there was a light in the room on a switched timer (Yes, they do have their uses for non-SB purposes as well – amazing!) and it was due to come on soon. Not wishing to be, literally, exposed to the entire neighbourhood clad in my fetish finery, I dropped to the floor and crawling below the window line I managed to tug the curtains closed before switching the light on (and discovering I had 10 minutes before I would have been bathed in light – too close!).
Software retrieved and having left the PC downloading my video, I drank water to refresh myself. So far I had been plugged and clad in Lycra over all of my body (occasionally excluding my head) for over 4hrs and I loved it! Aside from feeling a little warm (with so many layers on that was hardly surprising even in the cool of an unheated house), I was comfortable and the plug was almost forgotten, buried deeply inside me, only occasionally moving in a way that reminded me that it still purposefully lurked under my nylon cladding.
Whilst re-hydrating myself I planned my next session, something more challenging was required and also some new positions. With ideas already running though my mind I headed back to the vacuum self-bondage stage.
Firstly I was going to remove the chair and pillows, and try for a 'full body' vacuum with only myself in bag and no 'extras'. I left the timer set for a 5 minutes to get my ready, 2 minutes on, 2 minutes off, 5 minutes on and then off.
The position I wanted was a sort of crouched ball, firstly because I could continue to wear my heeled boots (I stood on the towel wrapped around the vacuum cleaner pipe – protecting the delicate plastic from a certain puncture by the sharp heels) and secondly because I thought the position would be an intense and challenging one for me to 'suffer'. I imagined that in this position the effect of the enveloping and shrinking plastic prison, would cause me to fold further into the 'vacuum ball-tie' and, most excitingly, cause the almost forgotten butt-plug to be pressed into my ass, as the plastic pulled deeply into every exposed crevice of my helpless body.
Without the chair in the bag it was much easier to move around and get myself prepared for my self-bondage. As previously, I had inserted the breather pipe along with balled tights, taped it in place, pulled the 2 knee-highs over my head, sealed the bag with a strong elastic band, and added two knee-highs over each arm. I proceeded to crouch down, with heels carefully located on the protecting towel. Next I used my trusty coiled rope to form a quadruple loop and lowered myself into as small a 'ball' as I could manage. This wasn't particularly difficult and I found that I could rest on my high-heels, with my knees upwards and upper body folded down almost touching my raised thighs and my head (plus its life bringing pipe) protruding forwards over my knees and angled slightly downwards. Working the rope coil behind my back and very aware of the time running out before my first 2 minutes of bondage, I forced both wrists through the open coils, working them vertically left to right and right to left. A simple twist of my wrists to the horizontal caused the coils to tighten dramatically and leave my wrists most securely bound in the small of my back. At that moment freedom was easy, but only the vacuum started I was certain my position would be utterly helpless.
Waiting for the fun to begin
Because it had been much easier to get myself set-up in the empty bag the minutes before the timer clicked on seemed to take an age to pass. Initially I was excited and genuinely trembling with anticipation; but, as time passed, the anticipation was replaced by muscle fatigue as my legs began to complain about the demands made upon them by my position. If you have never tried this position, give it a go and you will appreciate how I felt – the stresses on my thigh and calf muscles are quite demanding and even though I was thoroughly 'warmed-up' I became concerned about cramp setting in.
No time to worry now – the timer clicked and the vacuum sprang into life once more!
Unsurprisingly the air in the bag took much longer to be sucked out than when the same volume was filled with a chair and 4 pillows. At first the caress of plastic around my squatting body was no more than a slight touch, like the feeling of the sheerest pantyhose over your bare legs. I was lightly disappointed and thought my plan would fail, but the slowly increased – the feeling was delightful and I achieved the same sensations as before, all over my body. As the last air was sucked away from around my encased head, the plastic tightened one final time and clamped my whole body in an indescribable embrace of taut, clinging, material.
Ohhh...nice!
Immediately the experience was way more intense than before – the vacuum was tighter and, incredibly, more immobilising than with the chair. I was completely compressed inwards upon myself, possibly in the strictest style of ball tie you could enact in a self-bondage session. Even though it looks like I can move my body upwards I simply couldn't – the effect of a vacuum on the plastic seemed to somehow make it more rigid and stronger (I guessed this was the effect of it being an 'entire body bondage', rather than simply applied at the usual few points – ankles, wrists, etc).
My wrists where utterly trapped behind my back, I could neither move them around nor un-loop the coils of rope. I couldn't part my legs, move my arms away from my body or straighten myself up at all. I experimented with trying to achieve any movement at all, discovering that the best I could achieve was a sort of mini-hop; which gave me an idea – would turn myself through 90 degrees and show a profile of my self-bondage to the video camera (I'd almost immediately realised that my head-on position was not good cinematography). So I hop, wobble, hop, wobble my way across the floor.
Is this my best side?
Many things are happening at this time and, when I checked later, I was amazed at how short the time period was when all this went on – it felt like forever to me. My leg suddenly began to protest at their enforced position and a crazy idea struck me – I could roll onto my side and relive the weight upon my things and knees. Almost as soon as I started to tip over I realised my mistake – I had no way of cushioning the blow as I struck the floor. Even through carpet the impact jarred my balled body, with almost my entire weight seeming to crash down on my bound wrist and elbow. Luckily, very luckily in the circumstances, the impact caused the bag to rupture and allowed me some immediate freedom of movement.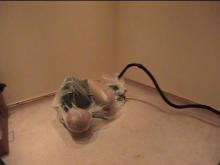 MMMMPPPPFFFFHHH!!!! - this hurt!
I honestly thought I'd broken something as the shock of the pain flashed through my body. Despite this, my first priority was to get free – I had no idea how long I was away from the 5 minute 'on' sequence and I daren't risk that in my state. Thrashing around in the bag I finally managed to untie the top and breathe fresh air through my nostrils once more. It was only afterwards, when I reviewed my recording of events, that I realised I'd only been vacuum-packed for less than a minute.
One aspect of the episode was that my stuffed and duct-taped mouth was utterly unable to emit the instinctive cry of pain I know I yelled as I hit the floor. Damned effective gagging or what? 😁
My elbow, wrist and shoulder all hurt like hell for a short while before the adrenalin (and endorphins?) took over and soothed everything down.
Looking at the wreckage of prematurely ended session I didn't feel disheartened, I was more frustrated than anything else. I was determined to press onwards, but needed to try a less 'painful' position and sort out the material damage to my toys!
Duct tape came to my rescue one again, as I hastily repaired the tear in the plastic bag and tried to think of a new position to try. As chance would have had it, in the corner of my play room was a spare brass curtain pole, with nicely rounded ends and of just the right length for a bit of vacuum fun.
Some years ago (2007, I think) I'd experimented with a standing vacuum bondage and an idea of how to improve on that experience had presented itself to me. I would stand upright inside the bag, heels still on but with a towel between them and the plastic and I would use the pole to hold myself into a rigid upright position when the vacuum was applied.
I used an old leather belt around both my waist and the pole to secure everything in place, whilst still allowing me enough freedom to gather the plastic bag up and around myself from its position on the floor by my ankles. For added restriction I planned to re-use the rope coil to bind my wrists behind both my back and the pole.
- ready and waiting again
By this time I was well rehearsed in the process of placing myself inside the bag, sealing it, pulling on the knee-highs and securing my wrists, so I was ready in plenty of time before the vacuum cleaner kicked into life.
As the bag tightened around my body I was surprised by the difference in the feeling I had, when compared to being seated or in a crouched position. The grip of the vacuum was a slowly tightening sensation, beginning at my ankles (which made sense – that was where the vacuum pipe was placed, somewhere under my instep) and creeping steadily upwards. I can report that the sensation as my upper thighs, crotch and bum became compressed inside the ever tightening plastic was extraordinarily erotic, producing an unexpected and immediate erection!
Soooo nice!
The sensation rose higher; moving past my stomach and wrapping tightly around my already bound wrists leaving my hands utterly helpless, then my chest was embraced by the encasement of pliant plastic. Finally my head and shoulders, together in a final rush of extracted air, leaving my bound, nylon and plastic encased, body rigidly held against the unyielding brass pole.
I relaxed into my self-imposed predicament, allowing the combined feeling of helplessness and isolation to work their magic in my thoughts and senses. It was as I stood, forcibly still, that I became aware of a cool draught of air around my right arm and also the annoyingly less stringent clamping of plastic to my upper body and head. I suspected (and later found) that I had missed some damage to the bag, leaving its integrity compromised (literally full of holes!).
Despite this disappointment I was determined to make the most of the two cycles (2min then 5 min) that I'd set the timer for. I exploited the less than 100% vacuum to, very slowly are carefully, shift position slightly and experiment with my stance.
I found that by very slowly extending my fingers from an initial bunched fist to a palm to palm arrangement, that the feeling of encasement was definitely enhanced – one to try again. Also I discovered that I could move my legs apart which delivered a twofold experience of the firm caress of plastic across my nylon clad thighs (very sexy feeling) and then the way the plastic was drawn between my thighs as the vacuum tried to re-establish itself (also very sexy indeed!).
Tighter, please make it tighter!
Again, and much too soon, the timer clicked off and I was left to free myself from the clingy plastic for a final time.
Free again... a mixed emotion
I was absolutely drenched with sweat, my arm and wrist had started to ache again, I hadn't managed to achieve sexual release, it was nearly 01:00 in the morning, but I was still having a great time!
What went well?
Lots of things!
The crouching position was an exciting challenge and was way more intense than I'd imagined.
Standing was a thrill and even the lack of a 100% vacuum didn't diminish it as a very sexy experience. Using the curtain pole was a spur of the moment thing and turned out to be an excellent enhancement.
What could be improved?
Ha! Not falling over and nearly breaking my wrist and arm would be top of my list.
Being more objective, I think that finding a way to make the couching/ball-tie position more comfortable and stable is a 'must do'. It was a great position, but just a little too strenuous for me to hold for any length of time. Maybe I could try it form a horizontal starting position, but there would be the issue of how to protect the plastic from my heels (I want to continue wearing them both for their look and also to protect my toes from being bent uncomfortably in the vacuum bag) and also how to fold myself into the tight 'ball' I desire (it's much easier when using gravity and your own body weight than trying to curl yourself – try it!).
I would also like to create a kind of 'bondage post' and do away with having to strap the pole to my body. The design would have a base to stand on, protecting the plastic, which would also hold the post firmly upright. If I was being really over the top I could use ropes or more straps to fix my body to the post before the vacuum started – which would bring another element to my self-bondage session.
A really exciting idea that only occurred to me days later was a sort of 'standing spread-eagle' position, with a simplified version of what is sometimes known as a 'St Andrew's cross' frame. I would need to make the frame and, most importantly, ensure my plastic bag was big enough to fit around everything. The frame itself wouldn't need to be a large as a typical 'St Andrew's cross' but probably would need to be fixed to a base in some manner. The idea of being vacuumed in spread-eagle position is most appealing to me, but until I try it in practise it will just be a happy fantasy!
Everything else is much as my wish-list in MJ-SB04/2010 and, of course, I would love to have more opportunities to play!
Thus you have read (and seen) the results of 'Part 2' – Part 3 will bring my adventure to a close and expose how my frustrations sometimes drive me to extremes.
I hope you have enjoyed my latest posting – play safe
MJ