Another opportunity for some fun presented itself to me and who was I to say 'no'?
Equipment:
70den closed crotch nylon bodysuit with sheath
15den sheer pantyhose
20den sheer pantyhose
8 knee-highs
Large butt plug
High-heeled ankle boots
Black Lycra body
Black nylon slip
Rope
Condom
Large ball for gag
The session:
My inspiration for this session came from the image I use as my avatar (and yes, it is me) and the realisation that I'd not done a session like that for a long time. All my most recent sessions have been about vacuum bags or being bound, immovably, to something solid (like a bed, chairs or stool) and not about the sensation of being bound but also being able to move around. Whilst looking at my avatar I realised that the simple (or, in my case, complex) hogtie was something I hadn't properly attempted in years, so my mind was set to re-create one of my older sessions.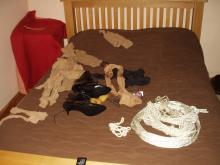 The gear all ready to go – closed crotch bodysuit for that super (almost fully) encased feeling, with pantyhose to add more layer son my legs and knee-highs for my head and arms/hands. Lots of rope, a gag (used inside a knee-high) and a butt plug (of course!), a black body and slip, plus my high-heeled boots to add some glamour.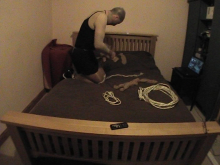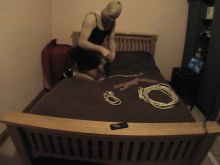 Legs tied and getting set – all dressed up and legs tightly tied, I'm balancing on the bed and working out the rest of my bondage. The gag is in place and my head is already covered in 3 layers of tight nylon.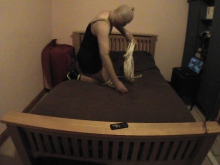 Pre-prepared mega-coils of rope – hmmm, I may have gone over the top with my chest ropes, but the rope was there so I used it…all!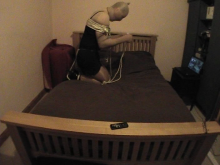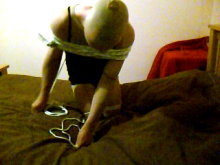 Last minute finessing or should that be fiddling? As always, no matter how much a plan a session there are always some elements that get changed at the last minute, either to improve the set-up or to overcome some unexpected problem. The addition of two layers of tight nylon mittens on each of my hands is not helping… but is super sexy fun!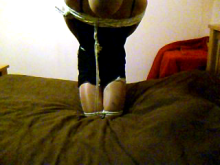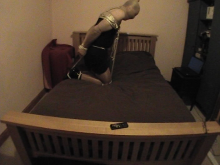 Deep breaths and ready to go – the rope coils are already tightly holding my wrists together, but there is also a rope that passes from my bound ankles, under a waist rope, which will cinch those wrist coils even tighter as my legs automatically straighten out when I fall forwards.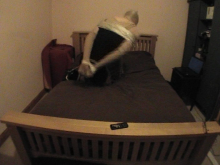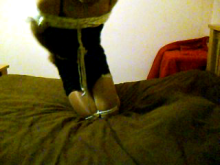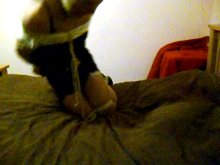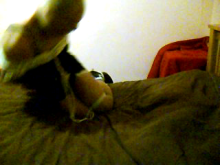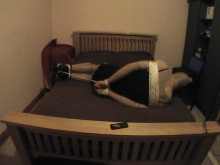 Going, going, gone! – I fall forwards into my bondage. I can't help but straighten my legs and the devious rope does it's very best to drag my helpless wrists tightly up to the waist rope. With every muscle in my body tensed for crash-landing all the ropes are biting hard into my flesh. It feels wonderful.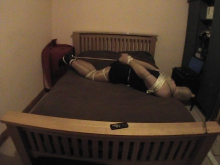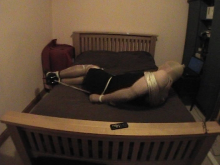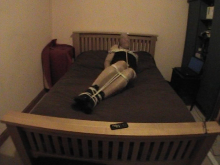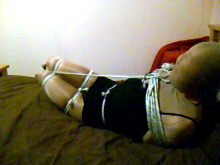 Writhing in ecstasy – just love the feeling as I roll around on the bed, testing my bondage and revelling in sensation of my nylon encased form sliding across the covers.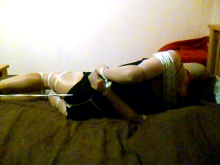 I can't reach it – my cock is aching to be touched but my bondage, for this brief moment, is too good and I can only grasp those few centimetres short of where I long to be.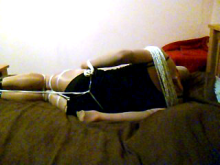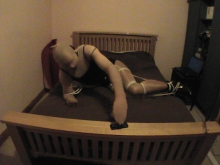 Over too soon – my bondage doesn't hold me as I might have wished. The session is over too soon as I make my escape, if only I can been stronger and used some method to enforce my helplessness.

What went well?
Being 'tied up' and not 'tied to' – it has been such a long time since I was simply 'tied up' I had forgotten how good it felt to be able to writhe around in bondage. I will by doing more of this type of self-bondage as soon as I can (and will be posting a separate thread on this subject)
Extra 'feminine' clothing – I hadn't worn the slip for a long time and the feeling of my nylon encased body rubbing against the silky fabric was a real delight.., I must do that again too! ☺😁
What could be improved?
Too easy to escape – I knew my helplessness would not be 'enforced' by some timed release, but once I was bound it was too easy to escape when deep down I didn't want to be able to. Why this happens I never quite understand; I am not strong willed enough to simply stay in my bondage for longer, I must escape… but when I do it an anti-climax and I feel cheated. How odd is that? 🤔🤔
A neat and simple way to enforce my bondage when tied up (not tied 'to'). I want to stay bound until something other than my hands free me – how do I do that? Ice-locks/cubes would work but are (I think) messy and cumbersome for this type of session (I want to free to roll around, but not get soaking wet or jabbed in the back by blocks of ice). Handcuffs are ok, but I don't find them very sexy to wear, they hurt more than rope and aren't snug/tight in the way I like. Any ideas? 🤔
More cameras and video postings – I'm playing around with some video editing software and given time will post some true 'action shots'. I'm also looking for higher quality (HD) webcam options… any suggestions or recommendations for cheap but good kit?
Hope you enjoyed my session as much as I did!
MJ