I was well into the zone now, with my 3rd session of the day planned to be the longest and hardest yet
Equipment:
70den open crotch nylon bodysuit
20den sheer pantyhose
9 knee-highs
Large butt plug
Condom
DIY penis sheath (see
Everday items for fetish use
)
Rope
Black Lycra body
Spreader bar
high-heeled boots
ankle cuffs
Mains powered massager
Digital timer
Ear Plugs
ball for gag
SRD and ice cubes
The session:
I was really warming up to my day of self-bondage fun and desperate to try something a little harder and a whole lot longer – time for the ice cubes, SRD and massager!
Call me lazy, but I had kept on the same outfit from earlier (somehow the sweat soaked nylon added to my imaginings) and, after a brief toilet break, the same butt-plug. I did add my heels, which I love the look of in these sessions. I also re-inserted my ear plugs, adding to my predicament when bound.
Still wishing to be bound on the bed I wanted to feel the tightness of rope around my body and also to suffer (really?) something new.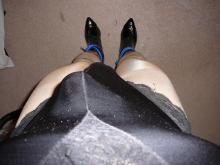 1. Dressed to thrill – I couldn't resist this shot; I've slid my nylon sheathed cock inside the penis sheath I made from my GF's hair treatment tube ( see
Everday items for fetish use
). To hold it in place I simple pulled a knee-high over it, twisted it around the base of my cock and repeated the process, encasing my cock in a condom, nylon sheath, solid plastic sheath, two layers of nylon and finally my Lycra body. The de-sensitisation felt strange and at the same time was rather exciting.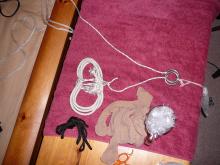 2. SRD set up – my usual arrangement, with the anchor point solidly fixed to a very heavy object, the ice-cubes inside a laundry bag which in turn was passed through a small metal ring. My SRD was arranged on to of a box, with the pre-prepared wrist coils and cinch ready to go.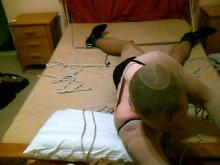 3. The set-up – ropes around the bed in various places. The spreader bar is placed so that when I tighten the ropes it will lift my feet into the air (and the blanket protects the bed headboard from damage by my heels!). More ropes are positioned for binding my thighs or waist, and also my chest and head. The massager is plugged into the timer with a teasing cycle of 1 minute on and 5 minutes off, starting 20mins into the session and running for 8 cycles (it can actually run to 10 – don't know why I didn't set them all) which would give me over 30mins of on/off teasing sometime during my bondage. I've already fastened my ankle cuffs to the spreader bar, though purely for comfort I'm not at the widest setting.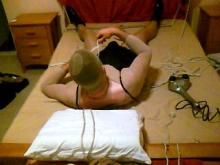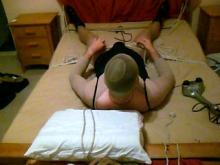 4. The first knots –After gagging myself with the (40mm) ball, with one knee-high over my head first, then the ball and then a second to hold it in place, I'm ready for bondage. I've lashed my thighs tightly apart; now, maybe it's just me but I do find the sensation of rope around my upper thigh, spreading them wide, very sexy!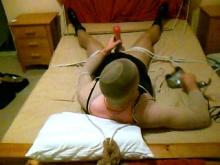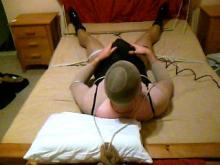 5. Positioning my tormentor – The first shot exposes my DIY sheath/chastity device/de-sensitizer, wherever. It does look rather flattering don't you think? It is always a struggle to fix the massager in a comfortable, but effective place. I finally find a good spot and proceed to secure my (hopefully) delightfully teasing device in place.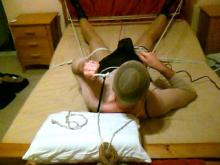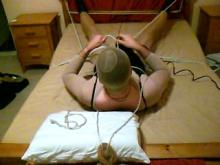 6. Legs up! – Another wonderful moment as I haul on the ropes that hoist my ankles and legs upwards from the bed and leave then floating in the air.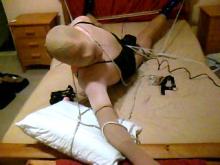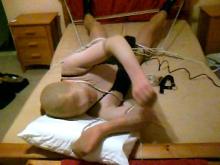 7. Ready to go – After abandoning some of the planned extra bondage element (it got too complicated and didn't really work). Instead I've pulled a further two knee-highs over my head and two each up each arm (I'm wearing 9 in total over my body) I'm looking behind me for the wrist coils. The timer did have 20 minutes to run before the first cycle, but I don't know how long I've been here already… I need to get a move on. But where are those damn coils?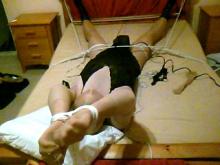 8. Found them – I force my wrists through the coils from opposite sides and then twist to align my arms. Through the double nylon encasement my finger struggle to pick up the free end of rope that will pull through the SRD and seal my fate until the ice melts.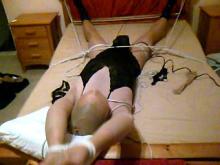 9. Tighter, tighter, stuck! – Oh how incredibly erotic it suddenly is! There is no going back, no quick escape, I'm trapped, bound hand and foot and gagged. My legs are spread wide exposing my encased cock and stuffed ass. Tighter! I want it tighter, so I haul on the rope to pull more and more through the one-way SRD until I'm stretched tight.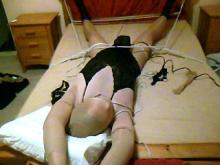 10. OH FUCK that's soooo good ♥ – I'm helpless and the massager is on its 3rd cycle. It has already twice teased me to erection and now it is doing it again. My cock is stuck inside the hard plastic sheath and nothing I can do brings me any nearer my desperately wanted orgasm, this is so fucking good! My ass is so relaxed now the butt plug feels almost loose and I know I could take something bigger 😇, my mouth stuffed with nylon and ball gag is overflowing with saliva and my cock aches for a release that will never come. I want to be fucked and I don't care! I want my GF to find me and make me cum, I want her to pinch my nipples and make me taste her sex. I want a stranger to appear and use me as his toy, force his cock inside my mouth, my ass… ☺☺☺ it doesn't matter – FUCK I want to cum so badly but I can't.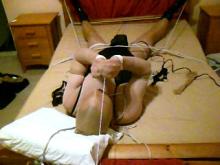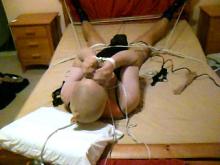 11. The ice has melted at last! - The massager had been silent for some time and I've been occasionally testing the rope fastening my wrists. Suddenly it has come free and I can lift my tired arms and begin my release.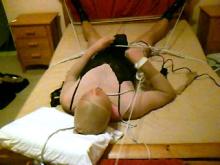 12. Still frustrated – it has been a struggle to get free (a rather pleasant one I must confess) and when I finally did free one wrist I was frustrated by the hard plastic sheath around my cock, which effectively stopped me from achieving an orgasm – damn! 😁
What went well?
Legs suspended and thighs tied wide apart – for me this is just such a sexy feeling
Video capture worked again – Yes. Result!
Properly helpless for over an hour – until I do a longer session I forget how pleasurable the feeling of long term helplessness is. This session took over 1hr and 30minutes, even using a single large ice-cube.
Massager on a timer – this was very good, especially combined with my plastic sheath. Occasionally in the past I have been teased to orgasm too quickly using this method, but the hard plastic seemed to both desensitize my cock and also constrain my arousal in a very pleasurable way. Somehow the knowledge of impending vibration makes the experience even more intense. Add to that my increasing frustration at being denied orgasm and the combination was incredible.
What could be improved?
More bondage – some of my plan failed and I really missed the extra ropes around my waist, torso and head. In my scenarios the bondage I enjoy most is the most restrictive (but comfortable), so any movement is a kind of failure in my mind.
Improved massager/vibration – I still need to find a more discreet way to tease myself. The massager I use if excellent, but bulky and difficult to get comfortably in place. I am working on something more compact and less awkward. It still needs to be mains powered so that I can set up the timer – unless anyone out there has any suggestions? I also need to see if I can vary the on/off programme a bit more and maybe extend the cycles over a longer time period.
Blindfold – I missed a blindfold during this session and I wasn't able to relax into the zone as much as when my eyes are covered due to the bright lights above my head (I needed the lights for the video).
Butt plug – another frustration was that as the session progressed I so badly wanted a larger plug up my ass. This happens during my sessions, when my sphincter muscles relaxing as I become more and more aroused. I wish I could somehow start with a bigger plug/dildo, so more practise is required! (After this session I managed to slide in my biggest dildo with no problems at all – gosh! ☺😁 )
I hope you enjoyed my session nearly as much as I did
MJ