MJ-SB04/2011 – Home alone: A different bed-tie
I was back on the bed for this session, and after the frustrations of my non-vibration (MJ-SB03) when tied to the chair I was desperate (literally) to get something from this session.
Equipment:
80den nude nylon/spandex bodysuit
Black Lycra body
2 pairs nude matt 40den pantyhose
1 pair tan 20den shiny pantyhose (my absolute favourites)
1 old pair nude sheer pantyhose (with arm holes at waist and crotch area removed)
9 Tan 15den knee-highs
High-heeled ankle boots
Massager
Digital timer
Large butt-plug
Condom
Ball for Gag
Ear plugs
Rope
Nipple clamps
The session:
I wanted to tie myself to the bed again, but in a slightly different manner to my first session of the day. I was also determined to 'force' an orgasm (Oh yeah! Like I would hate that happening) out of my helpless body this time!
Still dressed form my last session I wasn't going to waste time getting changed into anything new and simply wanted to get on with it. Ropes around my ankles, above and below my knees, upper thighs and all cinched a tight as I could comfortably make them. I used the thigh cinch to pull from the front, back between my legs and then tied it off to a waist rope behind my back ensuring the butt plug would stay pushed inside my ass. A rope running the underneath the full length of the bed was looped over the high bar at the bed's head and tied to my ankle ropes, when pulled tight it lifted my ankles off the bed and upwards, leaving them suspended (this doesn't show up well in the photos but was very erotic).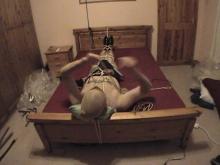 Legs tied and ready to go. The nipple clamps are tied off to a ceiling light fitting. You may spot that the body straps are off my shoulders, I didn't notice that until later. The rope lifting my ankles is running under the bed, up and over my shoulders and is tied off to my waist rope, adding to my bondage (and rubbing nicely against my cock).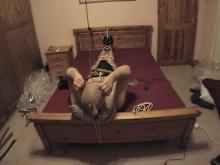 Adding another layer (or four – I might have got carried away here) over my head, these went over the top of the ball in my mouth and forced it deeper inside and preventing any attempt to expel it later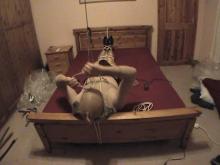 Now I'm using rope as both a blindfold (hardly needed – I could not see much through the multiple layers of nylon) and also to lash my head down to the bar at the bottom of the bed.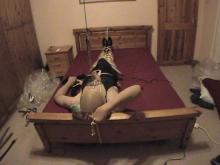 I'd sorted out the straps over my shoulders, but forgotten (how?!) about the nipple clamps, which are now trapped under the body. I'm positioning the slip-noose that will go around my wrist coils
Almost blindly working the wrist coils into the correct shape. The rope going upwards is looped over a ceiling fitting and attached to my nipple clamps. I've pulled that rope as tight as I dare (still unaware that the clamps are trapped under my black body), this will prevent me from moving my torso too much (that's the plan at least!)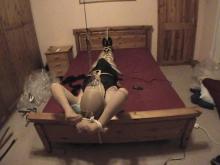 The wrist coils are over my right wrist and the cinching slip-noose is in place, now I'm trying to get my left hand through the rope loops without pulling on the cinch.
Got it! With my wrists in place and one good hard tug I'm trapped - all I can do now is await the start of the massager. With the nylon encasement of my head and the ear plugs I'm cut off from the world and listening to my own heartbeat as fantasies fill my thoughts.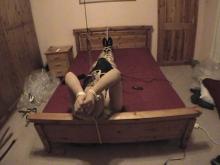 Oh that's so frustrating! The massager is doing its work well but not quite well enough. I'm on the brink of orgasm and desperate to cum, but can't. This is a wonderful agony to be in and the cycles tease and torment me with allowing satisfaction. I'm trying everything I can to push me over the edge: trying to work the butt-plug, tugging at the clamps (now I've realised something is wrong as trapped under the Lycra they don't respond to my efforts) and trying to hump the massager as it runs. I swear I actually started to cum just as the massager finished one cycle and plunged me back into impotent unfulfilled frustration.
What went well?
This was a good session on so many different levels.
Having my legs suspended was really different and erotic, adding, somehow, to my helplessness.
The massager was so cruel and yet so nice at the same time, so that on reflection I realise not being able to cum was a bigger thrill than actually achieving climax – though at the time I would have done anything (and I mean ANYTHING ☺ ) to have achieved orgasm.
What could be improved?
I would love to try the session with my wrists and arms tied in a similar fashion to my legs, suspended away from head to some tether point above and behind me.
Another variant would be to have my legs tied wide apart and suspended – I did fantasise about that scene as I waited for the massager to start again
Another fantasy I had as I lay bound was the idea of some sort of 'stay bound or suffer' type predicament' – the nipple clamps had been a (failed) attempt at something along those lines (stay still or suffer), but maybe I could add something more?
There!
– another retelling of my self-bondage experiences
Hope you all enjoy
Feel free to comment or post suggestions if you wish
MJ