So what does the self-bondage enthusiast do when they have a full day and night home alone and they've already indulged in some dramatic vacuum sessions? They treat themselves to an enema whilst helplessly bound, that's what!
Equipment:
20den open crotch nylon bodysuit
20den sheer pantyhose
High-heeled ankle boots
8 knee-highs
Condom
Rope
wooden stool
Handcuffs
ball for gag
3 collars with d-rings
Black turtleneck Lycra body
Enema bag and tube, with clip
Enema butt-plug
Water
The session:
During my long break from SB fun there was one fantasy that, more than others, kept popping into my perverted thoughts and that was to 'suffer' an enema whilst bound. I don't know why it was so frequently on my mind, but it was very high on my wish list and so, on impulse, I decided to 'just do it'!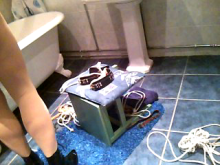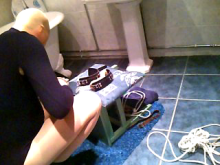 Getting set up – I was under no illusions that this session could get messy, so I only wore my oldest fetish gear and moved the location to the bathroom for ease of clean-up and closeness of toilet! I wore my old bodysuit, pantyhose, very old (and torn – look at the armpits) turtleneck Lycra body and knee-highs for the session. My enema plug is not the best (though it usually works) and needs to be held in place by either ropes or, as I did here, the crotch of a tight body. I added the boots as an 'evil' touch, intending to make it as difficult to get to the toilet as I could. What I didn't capture on film was the enema set-up, which was a 'simple' (?!) arrangement that involved a 'stay bound or suffer' mechanism. The plan was that the enema tube would be held high enough to prevent any flow of fluid (warm water in this case) until I pulled the string to retrieve the handcuff keys – meaning my freedom came at the cost of 1.5l of enema flowing into my helpless body.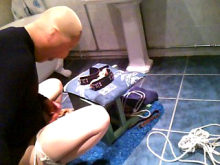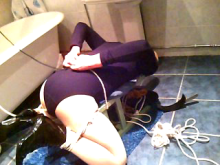 The frog-tied legs – as part of my plan I wanted to make my bondage both comfortable, but also difficult to quickly escape from making the thrill of a the enema inside me more challenging.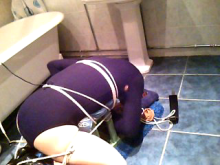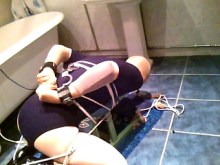 Binding myself to the stool – more rope, this time to wrap myself to the stool adding more delay to my escape and emphasising the peril of having a bowel full of enema, I will have to undo all of this to escape and I might be very desperate at that time! I've deliberately made escape as difficult as possible; every rope is wrapped around many times and knotted many times, my hands are sheathed in double layers of nylon making finger movement very difficult, wrist cuffs are tightly buckled in place, I'm gagged and my vision obscured by 4 layers of nylon. Even when I get the key in my fumbling hands escape will take some time… that's the plan! My release rope is in place – it is a very long length of cord with the handcuff keys tied to the other end, looped up around the shower rail and trapping the enema pipe to prevent any flow until I pull it to gain my release.
Safety clamp off and ready to go – the enema will start to flow the moment I pull on my release string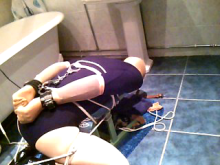 Handcuffs in place – I needed to secure myself so that I couldn't prevent the enema flow once it started. I closed one cuff around my chest rope which meant once the other cuff locked my wrists together I couldn't reach the enema tube.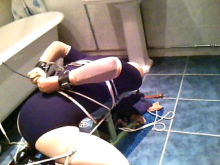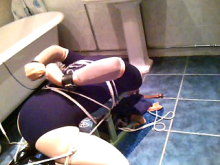 I finally gave in – the enema is flowing and I'm trying to recover the key.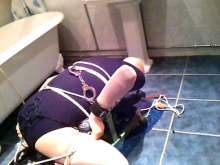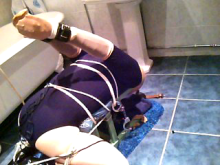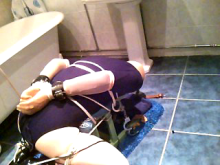 Cuffs are off, but – This is weird, I've freed myself from the cuffs and can feel the first urgings of the enema deep inside me, but I want to stay bound for longer. The wrist coils, fiendishly slid under my waist rope, allow me to temporarily bind my wrists tightly to my back… this is sooooo nice I really don't want to get free.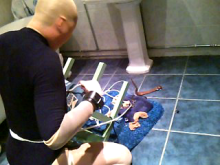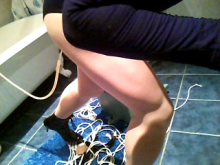 Got to go, got to get free – many minutes have passed and now I really do need to be free, my plan is working well and it takes a looooong few minutes to undo all the ropes and gain relief and release from this self-imposed predicament.
What went well?
The enema ran really well - I had no problems with air-locks, which have caused failure in the past.
Bent forwards over the stool was a great position – I was comfortable, very tightly bound (I must try the frog-tie more often, it's rather nice) and the enema remained bearable for a surprisingly long time
What could be improved?
A better enema set-up – my gear is a very DIY and frequently prone to failure; however I don't play often enough to spend a lot of money on replacing it. What could I do - any suggestions?
Better release of the enema and key – what I really wanted was to be utterly under the control of a remote timer that would release the enema first and then, sometime later, the key to my bondage. I don't trust ice to work that reliably it might release the enema hours earlier then my key or the exact opposite. My set up sort of worked, but I was in too much control for it to really meet my fantasies. Again, I would ask for any suggestions in the area.
The enema size and content – so far I've always played it safe, using slightly warm water (boiled and then cooled) maybe with a bit of diluted salt, but nothing more exotic and only around 1.5l in total . Should I try using more fluid – what is safe, do I need to test my capacity first? Also, there are lots of enema recipes on the internet, but which ones really work for this kind of play? Do I need to experiment or are they all basically the same? Remember I'm not a masochist, nor into scat, all I want is the wonderfully helpless feeling of being filled and unable to stop it and then the thrill of those urges to be free but unable to move. Filling my bowels with something that will irritate me beyond comfort is not what I'm looking for here.
Camera angles – damn it all! I somehow managed to move out of shot and the images are not quite as good as I expected… must do better next time.
I hope you enjoyed my telling as much as I enjoyed the doing! 😁
As always - play safe
MJ