MJ-SB03/2011 – Home alone: Office chair tied and vibrated (...not!)
OK – a change of style.
It takes me a long time to type, review, re-type and publish my thoughts, emotions and experiences from a session. Having had very little (read 'zero'

) feedback for my first sessions of 2011, I am going to try a different style which might appeal more to you the reader and is much easier for me, the writer, to complete! 😁
The session was a simple one, using my office chair, ice-cube release and timed vibrator
Equipment:
80den nude nylon/spandex bodysuit
Black Lycra body
2 pairs nude matt 40den pantyhose
1 pair tan 20den shiny pantyhose (my absolute favourites)
1 pair black 'Aristoc' opaque [pantyhose (for the blindfold)
1 old pair nude sheer pantyhose (with arm holes at waist and crotch area removed)
8 Tan 15den knee-highs
High-heeled ankle boots
Massager
Digital timer
Large butt-plug
Condom
Ball for Gag
Ear plugs
SRD & rope
4 ice cubes and a towel
The session:
I had returned from my shopping experience (see Home Alone) and, with butt-plug safely re-inserted, I wanted to try a scene I'd first attempted years ago but this time with a little more spice.
I was still partially dressed from my earlier session (see MJ-SB02/2011), but added a few more elements by inserting my ear-plugs, encasing my head used a ball for a gag and put on my boots.
The idea in this session was to try and isolate myself even further from any of the 'normal' sensations. The ear plugs and blindfold are not unusual, but I added my office swivel chair and tied my booted feet up and away from any contact with the floor.
Getting ready: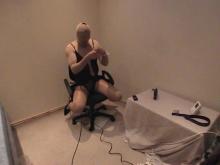 I'd already encased most of my body, but had gone a little bit over the top with multiple layers of knee-highs on my head (two pantyhose legs, plus 3 knee-highs made it very opaque). I'm preparing my wrist coils and have tucked the remaining 4 knee-highs (2 for each arm) into the front of my body for easy retrieval later.
Blindfold on: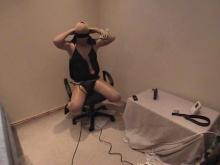 after checking everything was in place I used the black pantyhose as a blindfold – I just wish I'd checked the massager switch at the same time!
Pulling the SRD rope tight and cinching my wrist coils: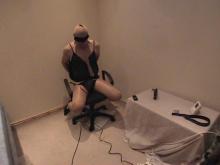 The SRD is fixed to the chair by an ice-release – it will hold tight until the ice melts. My booted ankles are lifted upwards and held in place by a rope across the top of my thighs. You will note the two cords running towards the camera. The zigzag one is the power lead to the massager (from the digital timer) and the straight one is my emergency escape route with a sharp pair of scissors – one end is tied to the chair, close to my bound wrists, the other is looped around the camera tri-pod leg and pulling it will be expensive and must only be used in real emergencies!
Now I'm really stuck: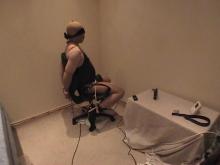 the wrist coils are cinched very tightly by the tight white rope down to the chair leg and I'm utterly helpless. The dark band on my forearm is caused by the double knee-highs encasing my hands, wrists and arms. I also appear to be smuggling a wok, hence the impression of a large belly… if only!
Lost in SB space: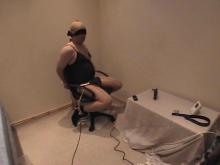 I've no idea of which way I'm facing or what the time is, I can only wait…
Noooo!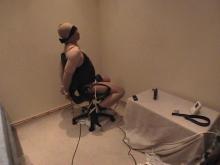 At this point I suddenly realise that my massager isn't working 🤔 and the frustration is intense.

Free at last!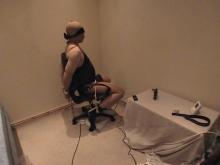 The ice holding the SRD has finally melted enough to allow my freedom, notice the white rope around my wrists that was fastened to the chair, has fallen slack to the floor.
What went well?
Lots of things: the feeling brought on by a combination of being blind, deaf and unable to touch anything but the chair was incredible. I have never felt so cut-off from the outside world and so alone with my thoughts. The photos tell a small part of the story, as I twisted and turned slightly in the chair – at the time I genuinely had no idea of where I was facing. Lifting my feet from the floor was very intense and will be something I shall do again.
The SRD worked brilliantly well, again, and left me helplessly stuck for nearly 30 minutes using only 3 ice-cubes.
Using my work chair for SB was a real thrill. As I sit in the very chair and type these words (officially I'm taking a 'screen break') only I know how 'naughty' I've been as my mind goes back to the session. The way every slight movement (looking back at the video I didn't twist more than about 45 degrees in any direction) was exaggerated so that it felt like I was turning around and around was both exciting and disorientating.
What could be improved?
Err… my physique! I'm very embarrassed by the obvious overweight state of my body – a combination of over-eating this winter (under control again) and lack of exercise due to injury (a slow recovery), the video and pictures showed how quickly and badly I'd lost condition and gained weight… oh dear! ☺
The massager didn't run! Somehow I'd moved the sliding switch from '1' to 'off' and hadn't noticed. The frustration of being bound and not stimulated was almost too much (some might say that it was a perfect scenario – but I was so desperate I nearly pulled the emergency release!). What made it worse was that I could just about hear the 'click' of the digital timer as it switched on and off, making me even more aware of what I was missing!
Adding something else to the scene; as usual when I'm bound my mind starts to run riot with fantasies about what else could be happening to me, but I can't think of one (or two) specific element that could be easily and safely added – most of my favourites are not (I think) suitable. Nipple clamps fixed to an immobile object sound like fun, but what happens if I swivel too far? (Ouch!). An enema is always an option, but I don't (can't) ruin my office chair and I've read that you can't get an enema to work when seated (is this true?) - Any suggestions?
So there you have it – a new style and photos to explain what happened. I hope you enjoy this as much as I did.

MJ