MJ-SB02/2009 - Encased Plastic bag vacuum self-bondage
First things first:
Some of you may recall my earlier posting about my experience of using a vacuum bag arrangement for self-bondage. For newbie's and any who may have forgotten:
This is a dangerous and high-risk practise – I always take great care and many precautions to minimise the genuine risk to life. Please, please make sure you understand all the risks and never, ever, attempt anything like this without having tried and tested beforehand and have a back-up emergency escape plan should it all start to go wrong.
Equipment:
Leg Avenue long sleeved body stocking (Nude - Plus size)
Black Lycra body
1 pair black opaque Aristoc 40den pantyhose
3 pairs tan 20den pantyhose
3 Tan 15den knee-highs
3 large black plastic 'rubble' bags
1 large clear plastic 'rubble' bag
Vacuum cleaner
50cm drilled plastic pipe
Plastic bottle gag/breather
Strong elastic band
Large butt-plug (and lube!)
Condom
Ear plugs
The session:
I had pre-prepared and tested the vacuum bag set up. The bag itself was constructed of 2 black, then a clear and a final black 'rubble' type plastic bag, cut and then taped together to form an open ended tube approx 3m long. The vacuum hose was feed in through a small hole at the bottom (taped to form an air-tight seal) and had the drilled plastic pipe attached inside the bag – I always fix a thick sock over the drilled pipe to aid the air being sucked out of the bag, it stops the plastic sealing around the pipe and not emptying the whole bag of air. I'd already tested the combined bags for their 'air-tightness' and once all the leaks had been found and closed (does no-one make a bag without at least 2 extra holes in it?😡) I fitted the breather/gag.
The breather/gag was a new development that I'd been thinking about for some time. Essentially it was an oval bottle approx 8cm at its widest and 5cm at its narrowest, and a around 15cm long. Made of tough plastic I'd found it to be a comfortable but snug fit in my mouth and had adapted it to be both a gag and breather when fixed through the clear plastic bag. Some of you may be wondering why I went for a clear section – mainly this was to give me some vision and let light into the vacuum bag/tube when I needed to seal off the open end, but I also thought it might add to the visual element afterwards (I would like to try an all black tube one day – when time permits).😊
Next I prepared and dressed for the session, following a tried and tested routine – butt plug first (it's quite large, for me, so lube is a must), then the condom followed by one knee-high over cock (done properly this is a highly effective method of de-sensitising, should you wish to!), the opaque pantyhose next (these have the gusset removed to allow my encased cock through), then the body stocking (brand new, 1st use, laddered – damn and blast!), followed by the 3 layers of tan pantyhose on my legs. I finally topped all this off with my trusty (but much worn) black body.
I love layering on nylon and Lycra – 12 pairs of pantyhose is my record so far (includes arms and head).
Now I put in the ear plugs. This is a small detail, but works well for me: not only do they add to the sensory experience (sound is surprisingly intrusive to my sessions), but I believe they protect me from damaging my eardrums in the vacuum.
OK – so my hands and head are free of nylon, this allows me to set the digital timer on the vacuum cleaner (10mins to get set and then 10mins of suction) and DOUBLE check the timer hasn't got any other programmes in it. I once thought the programme was clear after one cycle, but as I was escaping the bag the cleaner started again – could have been a bit scary if I'd lost the breathing tube! As it was I escaped and lived to play another day…

Further checks follow to confirm the vacuum is switched on, set to medium suction, and all the pipes are secure (nothing worse than waiting for ages for something to happen and then discovering you forgot to switch the vacuum on!)☺
All set, and into the bag I go – after firstly ensuring I have the two remaining knee-highs (tucked into each sleeve of the body-stocking) and the elastic band (around my wrist). The bags I used for this session where much thicker than previous ones and slightly narrower, this made the entry more difficult but not impossible. I'd opted for this approach on two grounds: the thicker bags should be more restrictive and the smaller size would mean less air to be sucked out and a quicker start to the 'bondage'.
Once fully in, with my feet touching the sock cover pipe at the very foot of the bag, I manoeuvred myself until I'd pulled as much of the bag past my head as I could. The first problem I had was that the bags where almost too small and I couldn't get my arms to my sides as I normally liked to do. This wasn't such a problem as the bag was long enough for me to stretch my arms above my head in an alternative position. Next import step to align the gag/breather and get it into my mouth. Due to the narrowness of the bags this wasn't as simple as I'd planned, but eventually (after what seemed like ages) all was well – mouth gagged by a wide oval plastic tune that was also to be my only access to air for breathing.
Once sorted out I used the elastic band to seal the open end of my vacuum tube, simply by gathering the opening into a tight 'neck' and then twisting it around and back on itself, finally using the elastic band to hold it closed. The knee-highs went on next, one on each hand and arm – finally encasing all but my head in soft, silky, nylon.
Now all I had to do was wait…
As I often do at this time, I breathed in through my nose and out through my mouth. What this achieves is to draw air from the bag before the vacuum starts and prove (to me) that the airway to 'outside' was still clear. I must have secured myself in the bag much faster than I thought, because time seemed to pass very slowly as I waited for the vacuum to power up. An unexpected bonus of the smaller bags was that I actually began to feel them cling to me as I drew more and more of the air from within them.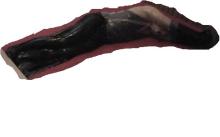 I always find this part of a vacuum bondage session exciting: waiting for something to happen which will render you helpless, your senses both heightened and, at the same time, less effective. All I can hear is my own muted breathing; all I can feel is plastic and nylon, if I move all there is a muffled rustle and the sensual feel of sliding nylon.
Then the noise, faint but clear, as the vacuum starts – I don't need to hear it, because I feel it soon enough. I can only describe the sensation of the vacuum starting, as being like a breeze against you whole body. Air is sucked from all parts of the bag, drawn down my body and out by my feet. Slowly yet surely the bag pulls tight, then tighter and then finally a sudden 'tug' as the last air is gone and the plastic clamps against my body – I'm bound and helpless.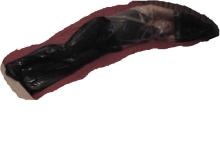 Now I can test the new bondage: has it worked, am I more helpless than before? Yes – and No.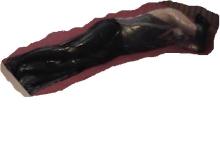 The thicker plastic is a much stronger restriction on movement, but doesn't cling as well as the thin, softer, material I've used in the past. My head, the only area not covered in nylon, is clamped in the plastic well enough, but there are creases and folds in the material that allow more movement than I'd have expected. I can also detect a flow of air from outside coming in – a taped seal or possibly a microscopic hole has failed and the vacuum is not complete.
I wish for many things at that time: for a true seal, with no air but for my breathing, a vacuum so powerful that I can not move muscle and a final strange desire – my nose to be sealed. Why? Well, as I discovered in previous sessions, it is easy to breathe though your mouth, but not so easy to not breathe out through your nose – and every time you do that the vacuum is broken, even if only for a few seconds.
Whatever the shortcomings of my situation, I still revel in it. 10 minutes is never enough, but is the limit of the vacuum before it will cut-out. The 10 minutes it took to climb in, position and seal myself inside took an age – the 10 minutes of helplessness are over in a flash. As I start to lose myself in that space where all focus is inwards, the grip of the plastic is released and I am free.
I tried 5 more sessions, each one after an adjustment to something in the set-up and an ultimately futile attempt to find all the pin-holes that kept letting air in. I even tried the idea Ra has suggested, using a rubber diving neck seal to allow my head to remain outside the bags. To be fair it might have worked if I'd spent more time refining it, but again I couldn't get the seal to work with the bag. I'd tried using the vacuum bags for clothing and bed-ware (the ones with the self-sealing valve), but ended up splitting two of them (the ones I'd got where not strong enough for this type of game!)
After over two hours I was soaked in sweat (you do get very hot plastic!) and frustrated. Yes, I had enjoyed the sessions – but I wanted more and more.
This is the time to know your limits and when to stop – I realised that if I carried on I would start to take risks and not focus on safety as much. Time to
STOP!
What went well?
The heavy duty bags are ok, but not as good as I'd like them to be. I just couldn't get a good seal at all and they seemed to be full of tiny holes. Also they where slightly too small for what I needed to do.
The sessions where great, but ultimately frustrating – I just couldn't get helpless enough.
One big plus – wearing a butt-plug! I discovered, quite by accident, that if you positioned yourself with your legs apart and then became vacuumed in that position, the plastic pulled tight enough to push the plug that little bit deeper inside – and you could do nothing to stop it. An unexpected, but highly enjoyable, discovery!
What could be improved?
I need to source some better bags that are soft, thick, large enough for my proposed positions and not full of holes! Ideally they should come in clear and black.
Some sort of nose plugs – I ruled out clips due to the risk of puncturing the plastic and also what damage they might do to me if pressed hard against my nose and face. They need to be comfortable for long periods, internal (ideally) and provide a good, safe, seal - Any ideas?
I'm sure there must be a home-made/DIY way of achieving a vacuum that remains sealed once the vacuum cleaner is turned off – but, most importantly, can still be released after a set time. I know that there are commercial products that can open and close a seal – but I simply don't have the money to pursue them (unless they come very cheap on eBay?). I'm sure that the vacuum seal from those cheap storage bags could work for the set-up, it's just the release that troubles me!
A better gag – the two methods I use (gag/breathers), both fail in providing an airtight seal between the outside and inside. I plan to try taping my mouth around the gag next time, I think this and some nose plugs (and the ear plugs) could provide the solution I desire.
There it is, in all its glory and failure – another self-bondage session.
As always - Play safe, have fun and share!
MJ