28 Oct 2023, 18:25 (This post was last modified: 31 Oct 2023, 22:15 by Peeklemeekle.)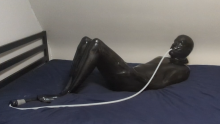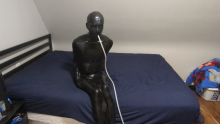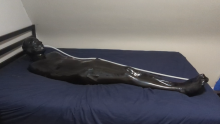 (sorry for lower quality pics, the lighting in my room isn't super good, and these are frames taken from a video, not actual pictures, as I am doing this by myself and obviously cannot take pictures)
So I got myself the vacuum sleep bag from euro catsuits, and have done a few sessions with it.
In the one pictured above, I was also wearing a mask, and vacuumed the bag with my own breath using a tube from my mouth to the end of the one way valve attachment at my feet.
I also recently did another session where i did in fact use a vacuum to suck out the air.
These sessions have been a cool experience, and in all cases, i am able to escape on my own simply because I get sweaty and it becomes fairly easily to slip my hand towards the neck gasket and let air in.
I imagine if I wanted it to be truly inescapable (for which i'd want someone else present, If i ever find such a person) that I'd want wear clothes for added friction and to stop me from sliding sweaty skin on sweaty skin. Ideally a latex catsuit so that I still have the feeling of latex on my skin, but I do not own one at the moment. Alternatively maybe some rope ties to keep my hands in place, and then slipped into the sack.
While these solo sessions have been fun, there is one thing I've not been quite satisfied and am not sure how to fix. This problem is the same whether I use a vacuum or my own breath via a tube: The vacuum effect gets much tighter on my feet and legs, but doesn't seem to get quite as tight around my torso/arms/hands. I think this is simply due to the one way valve for the vacuum being at my feet, so the air gets sucked out from there more, and as it pulls the latex super tight to my skin on my legs, it ends up basically "blocking" the path for air to be fully sucked out from the rest of the bag, higher up by my torso. A typical vacuum bed would probably have this problem too if all the air was sucked out from the same spot, but the suction is dispersed from all sides via pvc piping with holes drilled throughout.
Anybody have any ideas how i could get a tighter vacuum throughout the whole sack? As it is, it just doesn't feel crazy tight on my arms and hands. you can really see a clear, crisp line between my legs as the suction is tight there, but the outlines becomes less crisp for my fingers and between my arms and torso. If you've ever seen encasedlatex's content, he always seems to get a really great and tight vacuum, and you can really clearly see everything outlined as it's super tight. Here's a picture of him in one of his sacks: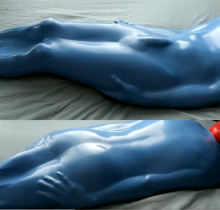 EDIT: found a pretty cool solution to my problem of the suction not getting as tight as I desire:
I also own a full body stocking sack (see picture) that's basically the same thing as my vacuum sack, it fully encases the body and you enter through the neck, but it's instead made of a nylon/spandex of some sort. I double layered myself with this body stocking on first and then the latex vacuum sack, and it seems even that very thin layer of material is enough to help disperse the suction through the entire sack, and it gets nice and tight.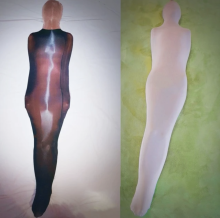 Nylon encasement also feels very nice on the skin and I enjoy that as well. So this basically combines that with the compression and restriction of a latex vacuum sack. I do find it is a bit harder to move my arm up to the neck hole to escape with the added friction of the body stocking, but still nothing that the lube of my own sweat prevents me from doing, still very much escapable for solo bondage.