I've always been a little disappointed with the general lack of tension that spread-eagle selfbondage inevitably involves, so I went to work with imagination and DIY skills. The attached photos show the results.
1) I bought a plate-type 12/24v electromagnetic door lock (25-30Euros) and build a wooden bracket and attached an anchor point to the plate (see photo 1). This is screwed to the floor (I have carpets over wooden floorboards so this works fine, but I guess others with carpet over concrete or laminate/wooden floors might need to think of something else... fasten to skirting boards or use a large plank) and the electromagnet attached to the power via 12/24v transformer and two in series electronic timers (one for safety back up) timed to switch the power off at your chosen "end time".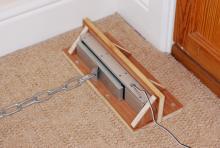 2) Fasten opposing anchor 2-3m away and join to the electromagnetic anchor with chain. I used a twist bolt to tighten this up (see photo 2). You could place an ice-lock timer here
http://www.likera.com/forum/mybb/Thread-Ice-time-locks
between this anchor and the chain as a second backup.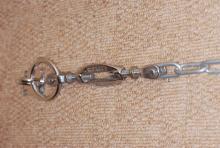 3) Lay spread-eagled with fingers touching the newly installed anchor chain and mark the position of ankles on the floor. Place a spreader bar between these points. I made my own collapsable spreader bar from an old broom handle, some metal pipe and some large eye-bolts and I'm rather proud of the result. I also attached some brass d-ring type picture hangers as shown. I took some long springs I had lying around in the workshop and clipped these to the ends of the spreader bar and anchored the other ends to the floor (see photo 3). The spreader bar can then be placed under considerable tension and kept there by hooking the brass picture frame hangers over another couple of screws I placed in my floor.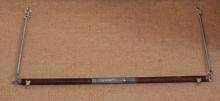 4) Clip my ankle cuffs into the eye bolts on the end of the spreader bar, lay back and clip wrist cuffs into anchor chain using padlocks. I use a small length of chain between my writs cuffs and the padlock to make this easier and keep the tension. You can also spread your arms wider and reach out along the anchor chain to make this bit as tight as possible. Click! Click!
5) Now simply flex your knees /legs and unhook the brass picture frame d-rings on the spreader bar off the screws that are keeping the springs in tension... voila! (see photo 4)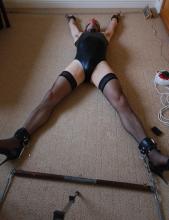 6) When your time is up, the anchor plate releases (or your ice melts) and you can reach over and undo your wrist cuffs and you're free.
You can achieve a nice amount of tightness/tension using this method depending on what type of springs you use. OK, so you've got to spend a bit of time in the workshop and buy a few bits and bobs but the result is (I think) worth it.
Have fun and play safe.
Steve