I'm home alone today and most of tomorrow so I decided to get out the kiddie pool and have some fun. The goal was a hogtie with tied elbows, ballgag and a blindfold.
Here are some snapshots: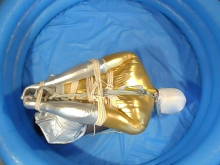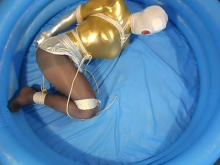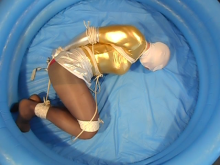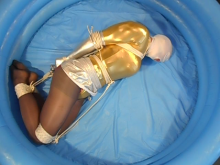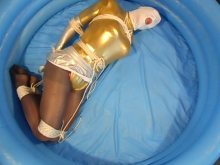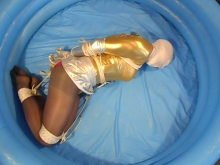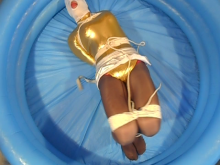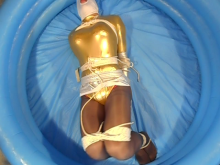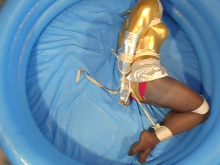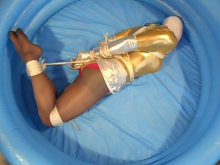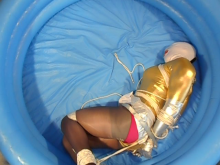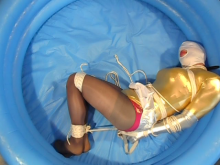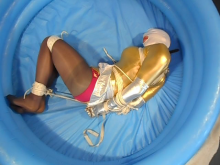 As you might have noticed I had to much going on for wearing gloves and a blindfold to unraffle so I did not manage to cinch the wrist loops into an inescapable tie. Trying to keep the elbow tie simple also resulted in it not working very well so the tie was not secure. This turned out to be a really good thing because I was using an ice lock to hold the strap ratchet. I put it trough an O-ring, the rod from the lock will slide trough but the lock's exterior can not so I'll have to wait for the ice to melt and then I can free my hands. Except during the tying the carabiner I used for easily connecting the straps trough the O-ring to the ice lock snapped itself shut over the O-ring! Meaning if my tie had been secure I would have been stuck. See here: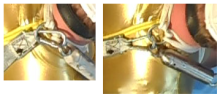 I don't have a habit of blindfolding myself but since I've done this tie before I decided I would be able to pull it of without checking a mirror. On top of this there were 2 bright 500 Watt halogen spots pointed at me and I was way overdressed. After 4 minutes I decided to get out since I was getting to hot. So being stuck would have been really bad, I don't know if I would have been able to get out of that pool.
Lesson learned I guess.
Anyway I'm going to play in the pool some more but with less clothes on, just a swimsuit I guess. I don't think anyone here wants to see that (I'm a fit, low fat, medium muscular male with hairy legs, chest and ass) but if you do; I'm taking requests, as long as it's not to warm