I was unsure whether to post a link to this computer game promotional clip so I checked with Like Ra who suggested I post it here with a warning. I love the imagery but the (computer generated) violence is over-the-top sadistic for me.
These are the antagonists, 'The Saints':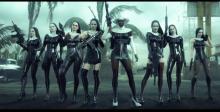 Here's the promo, consider yourselves fore-warned...
Source:
http://youtu.be/Yb_Gpqoc1wQ
I've put together a 'Boo' crossplay outfit (she's the woman on the far left of the pic) and I'll post pics if the thread's not too unpopular. There's also a group of girls from the UK Cosplay site 'Cosplay Island' doing 'The Saints' outfits at the London Expo this weekend so I'll keep an eye out for more pics like these: