So, I post a couple of pics on Flickr of myself dressed as a character from a computer game and I get a warning ' Staff have decided this should be hidden from public searches'. I already have the 'Safety Level' set to 'Restricted', there's no sign of 'the last turkey in the shop', my account has been reviewed and found 'safe'. What's their problem?
The offending picture (left), me dressed as 'Boo' from 'Hitman: Absolution'. On the right, the original character 'Boo': I posted this pic 'no problem' despite her toting a humungous gun (and the images is also technically copyright, I expect,
mea culpa
).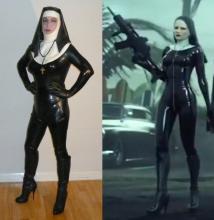 As I'm posting here, my other pics are getting the same treatment, everything is now unsearchable. grrr!