I had reached a point, around mid-afternoon of my second day 'home alone', where the lack of any orgasm during my self-bondage sessions had become unbearable and I simply had to cum…
Equipment
:
70den closed crotch, long sleeved nylon bodysuit with sheath

20den closed crotch, long sleeved nylon bodysuit with sheath

20den gloss pantyhose

Lycra body

8 knee-highs

Rope

Condom

High-heeled ankle boots

Leather cuffs, neck collar and D-links

Butt-plug (my biggest!)

Ear plugs

Cock vibrator and timer

Wooden post

Clover nipple clamps

The session:

I was still pumped up from my previous session (
MJ-SB06/2015 – Home alone session 6:
Mouthful of dildo or suffer
) and more than ever I needed to cum – so rather than attempt something complicated or sophisticated I chose a simple bondage position that had worked very well in the past. The only clothing change from my last adventure was the removal of my dress and changing the knee-highs over my head from those with holes in to some that where intact.
- the start point (plus gratuitous bum shot!)
Starting out I simply lashed a wooden post upright to the foot of my bed using rope. Next I tied my vibrator in place to my cock (using more knee-highs) and tucked everything neatly inside my Lycra body, with the power cord leading away to a wall socket and my timer (set to start in 20mins)
My booted ankles still had cuffs on them so I re-fixed them together with a small snap-link clip, but didn't bind them to the wooden post. On a whim (and still in my 'sub' mode) I also re-attached the clamps to my nipples – just for that little extra stimulation in my play.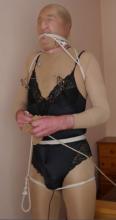 Using a long length of rope I bound my upper thighs and waist tightly to the post. With the same rope I also bound my shoulders and finally, using the remaining length, gagged myself to the post (I love a rope gag that also ties my head to something – it feels incredibly sexy to me).
Reaching behind me I picked up my wrist rope and more knee-highs; the knee highs, as always, went over my hands and arms which I used the wrist rope to quickly and simply bind my encased wrists together behind my back and the post.
Oh what blissful helplessness – even before starting my body was awash with the endorphins that come with sexual arousal, but being bound once again I very quickly drifted deeper into my fantasies. The large plug in my ass, almost forgotten after being in for over 4hrs, could be moved by me bending my knees very slightly and the same action caused the clamps to be tugged just nicely to tease me further.
All of these things, combined with the thoughts of my planned next session meant that when the timer switched my cock vibrator on, I was already very aroused and it was inevitable that the first cycle managed to do what 20 previous ones couldn't and I came, and came and came….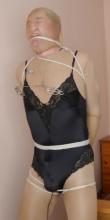 - mid orgasm (for me this is still and EOTD anytime!)
Whoa! My knees buckled and legs went like jelly as the long denied orgasm crashed through my entire body. I can honestly say that it was one of the most intense I've ever experienced in self-bondage. Even when the vibrator stopped I wasn't finished and my legs kept trembling and shaking as I hung in my ropes against the post.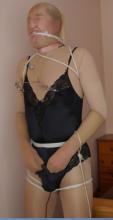 - hands free again but can't resist a quick fondle
What went well?
This was one of the simplest sessions I experienced all week, but it produced the most intense orgasm I've had in self-bondage. Possibly this was due to my heightened state of arousal and sexual frustrations caused by the previous sessions, but it is something I'm going to have to try again.
What could be improved?
I'm genuinely reluctant to change anything – simply because I don't want to lose the ultimate experience I had when I finally came, but….
I need to be 100% encased – that small area of bare skin around my neck 'spoilt' the image for me (though not the experience) when playing back images. I have the clothing to do it and will sort it for next time. I will also try this in my dress; for the life of me I don't know why I didn't keep it on for the session anyway.
As is always the case I wanted to be 'forced' to stay bound for longer – the problem I have is not knowing if I can take the hour or so it would usually take an ice-release to work (I can't make them smaller as they seem to break-down much too quickly or else physically fall apart under the stress of bondage. Does anyone have a fool-proof ice release, lasting 20-30mins maximum that can also take the full force of my straining against it?
Creating a proper bondage post – I've attempted this before, but for various reasons have not yet made one that can be easily hidden away when not in use and yet be strong enough to safely hold me upright (and not break or tip over).
Combining this scenario with suspension – oh my, what a fantasy that was in my head. Binding myself to a post that could then be hoisted upwards and off the floor would be an incredible experience. Vertical (head-up) would, I think, require a foot-bar to support me – but I imagine the experience to be intense. A horizontal (face down) position would also seem to offer some incredibly different feelings of helplessness (with my weight against the ropes it may be very intense).
Camera angles – I couldn't work the angles to get a decent image of this session, I will improve that next time around.
Play safe
MJ